Despite allegations that he was brutalised by police and that attempts were made to force him to sign documents, national chess champion Wendell Meusa plans to "move on peacefully" after the experience and instead focus his attention once again on chess.
Meusa, 25, was charged on June 18 with assault with intent to rob. However, the charge was dismissed last Friday when the virtual complainant, Sheliza Mohammed, testified that he was not the perpetrator.
Yesterday, Meusa spoke with Stabroek News and shared his tale of incarceration and subsequent freedom.
"I'm trying to do this to shed some light on what occurred from the 15th of June to now and to sensitise the public about the truth," he explained.
According to Meusa, Guyana's highest rated chess champion, his ordeal began on Sunday, June 15, when he was sitting in the front seat of a short bus to Grove. While in the vehicle, he said, an argument broke out in the bus as it neared the intersection of D'urban and High Streets. One man, he said, yelled for the bus to stop and various persons shouted at the driver to adhere to this order. The bus, Meusa added, stopped between a gas station and a warehouse and, in a panic, persons exited it.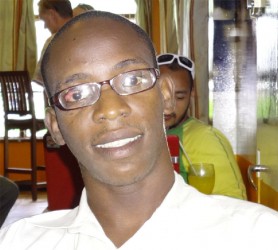 Meusa also exited the bus, he said, and was making his way across the street when he heard loud screams coming from the behind him. He recalled witnessing a woman, who later he learned was Mohammed, being struck with a fluorescent bulb by a man in a blue shirt. However, the bulb broke and the woman's attacker pulled out a cutlass to continue his assault.
Meusa went on to say that another man came up to him and requested help. The man, he said, was a relative of the attacked woman and asked Meusa's help in stopping a vehicle. However, their attempts were futile.
"Can you imagine that there were so much screaming and pleading and a lot of people were there and did nothing?" Meusa asked.
He, nevertheless, decided to leave and find another way home. He subsequently caught a short drop taxi to Georgetown but, soon after entering, a man on a motorbike pulled up alongside the vehicle and ordered the driver to pull over.
The man, Meusa said, accused him, the driver, and another passenger of an attempted robbery. Confused, Meusa informed the unidentified man that the assailant was elsewhere but he was nevertheless ordered to remain silent as the rider made a call for "backup."
Meusa maintained that he was innocent and agreed to stick around. Though the man had not identified himself, Meusa surmised that he was "either police or police-affiliated."
Soon after, a police patrol van was passing and was stopped by the man. Three officers came out and Meusa was searched on the spot. By this time, Meusa had begun identifying himself. However, he was told, "keep it to yourself until you get to Brickdam."
The search yielding nothing, he was taken to the station and handcuffed to a bench.
"Once again, I began telling them about myself," Meusa said. He tried to show the police a photo he had taken at the scene of the assault but the officers refused to see it. "I tried to show them but no one would listen," he lamented.
A senior officer told the arresting officers to take Meusa to the Diamond police station. Though he requested a phone call to contact his family, he was denied this right.
According to Meusa, while at the Brickdam station, he was asked to sign papers. However, he refused to sign anything without his lawyer present. This refusal, he said, seemed to infuriate an officer who yelled expletives and racial slurs at him. His refusal, he added, also led to police brutality. "I was cuffed to face several times by an officer for a few minutes," Meusa related.
In pain and fearful of worse treatment, he decided to stay quiet.
He was taken to Diamond and there, he said, no officer had keys to his handcuffs. He was forced to wait about half hour until an officer who was seemingly inebriated came and unlocked him.
On Tuesday, two days after being arrested, he was made aware that there would be an identification parade with three other persons. The parade was conducted and he was informed afterwards that three persons had positively identified him. However, he said, he subsequently learned that only one person, the virtual complainant, was called in to identify the suspects.
Following the ID parade, he saw the virtual complainant's brother-the man who had called out to him for help on that fateful night. Though Meusa tried to get the man to validate his innocence, he said the man refused.
Once again, he said, officers tried to coerce him into signing documents but he refused to do so. Finally, on June 18, he made an appearance at the Georgetown Magistrates' Courts to answer the charge and he was subsequently placed on $150,000 bail after he maintained his innocence.
He explained that when he was freed on Friday, it was a surprise. "I was told that I was a free man. I was free to go," Meusa said before adding, "To do what Mohammed [the virtual complainant] did was something brave and honourable; it's something people don't do in Guyana… my life was actually depending on her."
Meusa believes that the police force needs to undergo a serious change. "I would tell the police in the Guyana Police Force that you need to restructure your policies and procedures in three areas," he said. "One, handling the victim and the accused; two, conducting an investigation because in this scenario there was no thorough investigation done; and thirdly, the way they charge people in Guyana because this way is not always accurate and a better job can be done, definitely."
He also opined that civilians should be treated the same way officers are treated when they are charged.
Meusa noted that he was held for more than 72 hours and believe that if he were to be charged he should have been released and then rearrested for his court appearance.
He has decided not to take any action against the police for their alleged brutality and will instead "just move on". "I will not sue them but I'm just asking that they conduct a better investigation into the matter," Meusa said.
He also reserved special thanks for the Guyana Chess Federation, his family, and activist Mark Benschop. He also thanked his lawyer, Onasis Granville, who represented him pro bono. "They stood by my side and believed in my innocence," he said. "That type of support helped a lot."
Currently, his focus is entirely on the 41st World Chess Olympiad being held in Norway in August. Guyana will be making its third appearance—its last being in 1980—and Meusa will be coaching the Guyana team.
"At this point, I just wish to move on peacefully with my life and return to continuing my coach training as a national coach and most importantly representing Guyana in Norway," Meusa emphasised.
He noted that the team has been affected due to his court matter and is asking sponsors to get back on board and allow Guyana to represent itself.
Though he said he was wrongfully accused for a crime he did not commit, he said he is nevertheless sympathetic over the woman's situation. He further said that he would like the perpetrator to be captured because the attacker was obviously unstable and could attack anyone else.
Comments

Wijeyadasa Rajapakshe   COLOMBO, (Reuters) – Sri Lankan President Maithripala Sirisena today sacked the justice minister over his criticism of a $1.1 billion deal, signed last month, to lease a port to a Chinese company, the cabinet spokesman said.

NEW YORK,  (Reuters) – Two Harvard University researchers said in a study published today they had collected scientific data proving Exxon Mobil Corp made "explicit factual misrepresentations" in newspaper ads it purchased to convey its views on the oil industry and climate science.

In the wake of rising bad loans and a massive alleged fraud against it this year, the Guyana Bank for Trade and Industry (GBTI) has posted an unaudited net after tax profit of $603m for the first six months of this year compared to $961m in the same period for 2016.

Vamanadev Hiralall, of the privately-run Saraswati Vidya Niketan (SVN), is the country's top performer at this year's Caribbean Advanced Proficiency Examinations (CAPE) after achieving an accumulated 13 grade one and 3 grade two passes.

Twenty-six students in the top one percent of the 12,684 who sat this year's Caribbean Secondary Education Certification (CSEC) examinations earned 12 or more Grade I passes, with half of them, including the top performer, coming from Queen's College (QC).