A woman's handbag and an umbrella believed to be the property of missing St Stanislaus College teacher Nyozi Goodman, who has been missing since July 6, were found at the back of the Botanical Gardens yesterday afternoon.
Goodman, 34, vanished without a trace after she left a basketball game at the National Gymnasium on Mandela Avenue 14 days ago.
The handbag and umbrella were found at approximately 4pm, an hour after the search party of 10 commenced a search. The search was led by social activist Mark Benschop.
Goodman's mother, Carol Greene, who was present when the bag was found, could not confirm that the bag belonged to her daughter, but said the umbrella looked like Goodman's. "She has so many bag," Greene said. However, two colleagues of Goodman stated that that they had seen her with a bag similar to the one found.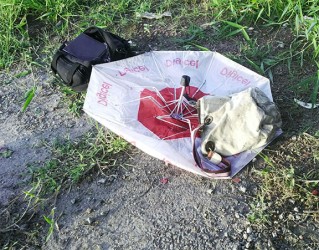 Speaking to Stabroek News, her brother Nestor Thompson related that Goodman left her residence on July 6, to attend the event but no one was aware of what she was wearing and whether or not someone was with her. Thompson said that after the game his sister told her students that they could leave and that she was waiting on someone to pick her up.
He said that all attempts to contact his sister had proved futile and though he hopes for the best he is worried about her.
Goodman is dark brown in complexion and approximately 5 feet, 4 inches tall. Persons who may be aware of her whereabouts are asked to contact Thompson on 692-4526.
Comments

A section of the Kitty Public Road is to be closed from Wednesday as the Ministry of Public Infrastructure steps up road works in the area.

Anil Nandlall Former Attorney General Anil Nandlall today rejected an explanation by Minister of State, Joseph Harmon over the government's directive to the Police Service Commission to halt promotions.

The improvised weapons (Prisons photo) Prison Staff this morning with the support of the members of the other services, reported for duty at the new holding area lusignan Prison.

Nicolas Maduro CARACAS/LIMA, (Reuters) – A group of 12 regional nations plus the United States rejected Venezuela's new government-allied legislative superbody, saying they would continue to regard the opposition-controlled congress as the country's only legitimate law maker.

Eighteen prisoners at the Lusignan penitentiary were being treated for injuries last night following a reported attempt to kill a fellow inmate during which warders fired shots.