APNU MP Joseph Harmon will today make inquiries of the Guyana Lands and Surveys Comission (GLSC) when it meets the Economic Services Committee of Parliament, concerning instructions it has given for persons squatting in 'Circuitville,' Yarrowkabra, Linden-Soesdyke Highway to relinquish the lands and leave the area. The promise was made during an APNU fact-finding mission which Harmon led into the community yesterday along with the media.
Adressing the crowd which gathered to meet with him, Harmon said, "We want a good life for all Guyanese. We are all entitled to a nice piece of land. This country is so big, and we are entitled to live well…so when (former President) Mr. (Bharrat) Jagdeo build his mansion by the seaside y'all entitled to a mansion like that."
Small numbers of Guyanese from across the country, including locations as close as Timehri and as far as Corentyne and the Rupununi, have been moving to Yarrowkabra, situated along the Soesdyke-Linden Highway, since 2009. Recently though, they have been flocking to the location in droves. Those who have moved to the area have organised themselves into a committee whose representatives voiced concerns to A Partnership for National Unity (APNU) after they were told they have to move.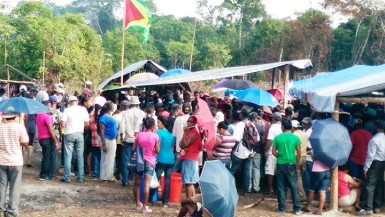 The push factor, says community leader Derryck Boyce, is the high cost of land, housing and rent around the country, with almost free land and relatively cheap housing possibilities being the pull factors. Boyce told Stabroek News yesterday that as persons came they told their friends and family who have come also.
To date around seven hundred persons have begun to clear land while scores have already set up homes at millions less than it would have cost to build a house in the schemes that the government has and continues to develop.
The GLSC however, has told the squatters that their occupation of the lands is illegal as they are "tresspassing," which goes against the law. A GLSC notice posted in the now-expanding community instructs the squatters to "immediately cease tresspassing and give up possession of lands illegally occupied." If this is not done, the notice continued, "strong actions will be taken." Boyce said the GLSC has promised to send officials into the area tomorrow as the agency continues its engagement with the community.
Hundreds of persons, several bearing placards depicting varying views, awaited Harmon's arrival to hear how he would help them. But, though they are relying on him to render assistance it is clear that those who have taken lands in the area do not perceive their actions as wrong, nor do they intend to vacate the lands.
In fact, the residents are calling on government to ensure they have access to water and electricity as they are finding it difficult, but not impossible, to do without those utilities.
Before Harmon's address, the crowd which gathered sang Dave Martins' "Not a Blade of Grass," while Harmon led them in the first verse of "This land is my land; This land is your land," just before his address.
Boyce says that by occupying the lands in Yarrowkabra the people are following the charge of late president L.F.S Burnham who once urged Guyanese to occupy and work the lands.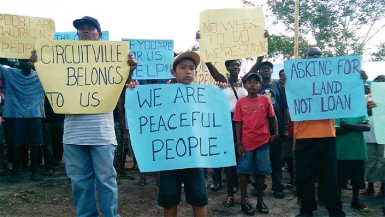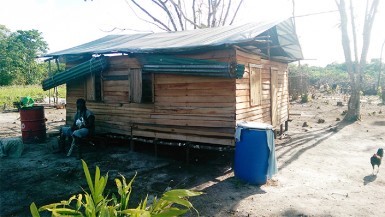 He also said that the people of Circuitville are not interested in accessing loans to build houses in the schemes provided by government. "We have our own bank isn't that so? Within the trees," Boyce, who added that some persons have built homes for as little as $10,000, said.
Harmon told those gathered that the fact that they have been driven to occupy lands in the way they have is an indication that government's housing policy has failed.
He then promised them that he will put the matter on the front burner when the Parliamentary Sectoral Com-mittee on Economic Services, on which he sits, meets the Agriculture Ministry today. The GLSC falls under the ministry so its representatives will also attened the meeting and be available to Harmon for questioning.
Harmon also noted the fact that the community was very organised and urged them to maintain a high level of organisation. He further encouraged them to create a register of all of the persons who have come to the area and the land(s) they have occupied.
Harmon told the crowd to remain focused on getting their land despite distractions. "A lot of you may be concerned about what is happening in the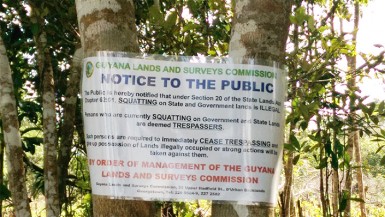 Parliament but you stay focued on your land…don't let nobody tell you stupidness…tell you about money laundering bill ain't gon pass so you can't get land. All kinda nonsense they gonna come and tell you. Stay focused on your land," he urged.
Comments

Wijeyadasa Rajapakshe   COLOMBO, (Reuters) – Sri Lankan President Maithripala Sirisena today sacked the justice minister over his criticism of a $1.1 billion deal, signed last month, to lease a port to a Chinese company, the cabinet spokesman said.

NEW YORK,  (Reuters) – Two Harvard University researchers said in a study published today they had collected scientific data proving Exxon Mobil Corp made "explicit factual misrepresentations" in newspaper ads it purchased to convey its views on the oil industry and climate science.

In the wake of rising bad loans and a massive alleged fraud against it this year, the Guyana Bank for Trade and Industry (GBTI) has posted an unaudited net after tax profit of $603m for the first six months of this year compared to $961m in the same period for 2016.

Vamanadev Hiralall, of the privately-run Saraswati Vidya Niketan (SVN), is the country's top performer at this year's Caribbean Advanced Proficiency Examinations (CAPE) after achieving an accumulated 13 grade one and 3 grade two passes.

Twenty-six students in the top one percent of the 12,684 who sat this year's Caribbean Secondary Education Certification (CSEC) examinations earned 12 or more Grade I passes, with half of them, including the top performer, coming from Queen's College (QC).