Even as the Health Ministry awaits results from Trinidad and Tobago, the number of confirmed cases of the mosquito-borne chikungunya virus has doubled to 62 within the last two weeks.
Over 170 samples were sent to the Caribbean Public Health Agency (CARPHA) for testing and so far 62 samples have returned positive, Chief Medical Officer Dr Shamdeo Persaud told Stabroek News yesterday.
Thirty-two of the 62 confirmed cases are women. Thirty-six confirmed cases of the virus came from Region Six, 19 from Region Four and the others from across Regions Three, Five and Ten. Some of its symptoms include: sudden high fever, joint and muscle pains, skin rash and headaches. And while there is no specific treatment for chikungunya, medicines are available to treat the symptoms.
Persaud said the ministry has increased its education drive, along with fogging activities in and out of the city. "We are focusing more on educating the population," he stated.
He said when the virus emerged in May, vector control officers were on the ground and visiting the homes of suspected infected patients to inform them about the virus. He said the officers visited homes and inspected containers that were collecting water.
However, as the figures rose, he said, it became difficult to continue with the house-to-house and therefore health facilities across the affected areas were required to do their part.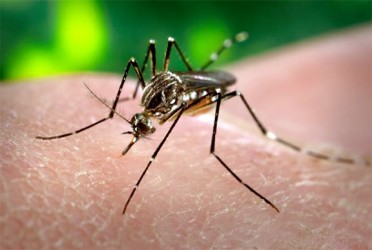 But as the virus continues to spread, there has been much criticism of the fogging exercises conducted by the Vector Control Services. People have voiced concerns about the health risks posed by the chemicals used to fog. Many complained about not being alerted about the exercise and being shocked when health workers started to fog their area.
One resident on the East Coast Demerara said that since the fogging activities started he has noted an increase in the number of the aedes aegypti mosquitoes in his area. "We are vulnerable here. Look, recently we killed a set of mosquitoes with Baygon …they are here all day," Kester Alphonso said.
Another man who lives in South Ruimveldt and asked not to be named, expressed disgust at the way the health officers were conducting their fogging exercise. He said he was never alerted about the fogging and was therefore shocked on several occasions when his area was sprayed.
He said there were many families who have small children and pets that could have been affected by the chemicals. "They are just spraying the place and no one even telling us anything. They are not considering whether anyone allergic to the chemical in that spray, they just spraying," he said.
Stabroek News also received information that a team of health workers who were carrying out a fogging exercise in Georgetown fell sick the next day.
Yet to confirm
Persaud and Epidemiologist Dr Morris Edwards said they had received information of the workers falling sick but were yet to confirm it. All of the workers were trained to fog and use their protective gears, Edwards stated, while noting that the workers were bound to be affected if they were "downstream of the spray".
Persaud said he was unaware of an increase of the carrier mosquito on the East Coast but would carry out an investigation as quickly as possible. "Fogging is cyclic and we have used it in the past," he said while indicating that the concentration of the insecticide Malathion was very low and mixed with diesel.
"The fogging solution is a combination of diesel and Malathion to extend its residual effect. When it is used with diesel it does not dissipate fast. The concentration is low," he said and noted that foggers blend the mixture accurately and measure it carefully before proceeding to fog.
When questioned about the harmful effects of the insecticide on humans and animals, Persaud stated that: "All chemicals are harmful…. It is not dangerous unless the baby is allergic. It does not go into the house in a high concentration because the target is mostly on the outside and the alleys."
He said people should secure their pets inside and open their windows. But persons and children who are allergic should remove from the area until the fog has passed. Even though there were complaints of people affected by it the fogs, he said, they have received no reports from hospitals of people actually being sick.
He further stated that they have been monitoring the public and private hospitals to see if anyone was affected by the chemical used in the fogging. "Even though we hear the noises out there we are not seeing anyone going into the hospitals but we are still checking on it," he said while adding that Malathion has been used for more than 40 years in fogging exercises.
He also expressed concern that some people had been misinformed about "a vaccine" for chikungunya. He said there was no vaccine for chikungunya neither was any recommended by WHO/PAHO.
Persaud encouraged infected and suspected infected people to sleep under nets to prevent further transmission of the virus. "Put the persons under the nets to sleep," he declared, stating that once the mosquito bites that infected person, it becomes infected and carries the virus to another person. "These are critical sticking points that we need to get out there," he said.
Information
Meanwhile, Shadow Health Minister for APNU Dr George Norton voiced alarm about information not being readily available to the public on the virus. He said the assurance was given that it would be kept under control but when they started fogging people were not made aware of the health risks. "It is taken for granted that the Guyanese population would not question anything. It is obvious that the authorities were not too keen on releasing information," he said.
"By right, the population should have been alerted about the fogging times in areas," he said and posited that Guyana should not have waited until the virus was spotted here to start preventative measures.
"We have to let people know how serious the chikungunya virus is," he said.
"We need to keep the environment clean," he said. "Even if the government cannot do it then the family, the communities and the population should keep their environment clean," he said.
Norton was peeved that the government was telling the nation that the situation was under control when the figures were rising. "They are giving the public a false sense of security and people would let down their defence. We should make the public aware that the virus does exist in large numbers," he said passionately.
Responding to declarations that the ministry was withholding information, Edwards said reports were made periodically as results were received. "We can't show what we don't have… There is no need to hide any information. We are always open to speak about it," he said.
PAHO Adviser on Malaria, Dr Maria Sanchez stated that chikungunya was not only a government concern but also a population issue. "The government has to come, has to spray, has to do this, has to do that, but the population has to understand that it is our problem. It is not a government's problem," she said.
"You can spray the whole of Georgetown every night and you still won't achieve what has to be achieved," she said, adding that people need to start cleaning their surroundings and homes.
The mosquito breeds in uncovered overhead tanks or any container holding water. The mosquito is identified by white markings on the legs and a pattern of a lyre on the thorax. It is usually seen throughout the day and night even though it bites mostly at dusk and dawn.
So far chikungunya cases have been reported in Anguilla, Antigua and Barbuda, the British Virgin Islands, Dominica, Dominican Republic, El Salvador, French Guiana, Grenada, Guadeloupe, Guyana, Haiti, Martinique, Puerto Rico, St Barthelemy, St Kitts and Nevis, St Lucia, St Martin, St Vincent and the Grenadines, St Maarten, Suriname, Turks and Caicos Islands, and the US Virgin Islands.
Comments

Left-arm spinner Ashmead Nedd … picked up a couple wickets in Guyana's win.  

Jerry Lewis   LOS ANGELES,  (Reuters) – Jerry Lewis, the high prince of low-brow comedy on stage and in movies as well as a fund-raising powerhouse with his annual Labor Day telethon, died today of "natural causes" at the age of 91, his family said.

Beharry Automotive Limited (BAL) , the authorised distributor for Toyota parts and lubricants, says that an abundance  of imitation Toyota parts and lubricants have entered the market with the Toyota logo and trademark.

Grace Mugabe   HARARE,  (Reuters) – Zimbabwe's first lady Grace Mugabe returned from South Africa early today, state media reported, after a 20-year-old model accused her of assault in an upmarket Johannesburg hotel room.

Michael Bhopaul, 16, doesn't know if he is this year's best performer at    the Caribbean Secondary Examination Certificate (CSEC) Examinations, but with preliminary results showing that he has obtained passes in 25 subjects, he will be hard to top.