Gold declaration is still down for the year so far – 16% up to this month – and Minister of Natural Resources and the Environment Robert Persaud has announced a series of measures aimed at reversing the decline.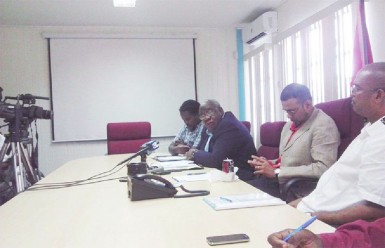 Stakeholders and observers have stated that the decrease might be due to hoarding and reduced production owing to the dip in gold price but when asked about the latter yesterday, the minister said, "We have not accepted or unaccepted any factor because we are still working with the mining communities to determine some of the contributing factors."
The decline in declarations has worried the government as gold has been the major driver of the economy in recent years and is a key source of foreign exchange. Earlier this year, the declaration level was down by 20%.
President Donald Ramotar had said that it was his government's view that the shortage in declarations was due to hoarding of the precious metal by miners.
However, industry insiders have rebuffed government's position saying instead that a drop in production was one of the major factors responsible for the decline in gold declarations for this year, which has seen Guyana losing $20 billion in foreign exchange earnings.
Persaud said that for the year so far declarations were at 233,305 ounces as compared to 278,127 ounces for the same period last year.
Pressed on if he still shares the view that hoarding was the reason for low declarations, Persaud retorted, "You have to first ask me whether I thought earlier, to still think."
When Stabroek News explained that President Ramotar had made that observation, the minister then said that it was too early to arrive at such a concrete conclusion as figure analysis had not yet been completed. "At this point in time, I would say that we are doing some assessments to determine… There are a number of factors that have combined certainly together and it is our obligation and our intention to work with stakeholders to address whatever those factors are," he said. Further, he said that government's position that low declarations were the result of hoarding would have come from information supplied but did not say supplied by whom.
Miners had immediately dismissed the claim that they were hoarding gold, saying that many of them were struggling to stay afloat and some were forced to close their operations. "The average miner cannot afford to keep gold," one official had said.
An official of the Guyana Gold and Diamond Miners Association (GGDMA) had stressed that the drop in price had affected miners significantly and stated that in the wake of the drop in gold prices the organisation has been lobbying government for concessions.
Yesterday, Persaud detailed steps soon to begin in the hope of taking production back to 2013's levels or higher. "We have been exploring ways in which further support can be provided so that we can see a ramp up or even a return to the 2013 levels of outputs and ultimately in terms of declaration," he said.
These measures include spending more than $1.5 billion on road repairs in mining districts to allow for better access by miners. Works will be done on the Puruni, Issano and Mahdia roads among many others. This will be coupled with the rehabilitation of bridges and the designing of a new road from Parika to Goshen.
The GGDMA has also been granted a licence by the GGMC to import and distribute its own fuel at more competitive rates subject to local laws and regulations.
New lands will also be made available for mining both on a large and small scale basis as land availability has been of major concern to miners. To this end, Persaud announced that a competitive open auction for mining lands will be held on August 11 and lotteries for new mining lands in the mining districts on August 18. "These two important activities would see hundreds of individuals who currently do not have access to their own properties… given the opportunity," he said.
Persaud explained that for the year 727 medium-scale prospecting permits had been issued and this reflects a 68 per cent increase compared to the same period in 2013. Also a total of 469 mining permits and 18 prospecting licences were granted reflecting 89.6 and 38 per cent increases respectively. He said expeditious processing of the permits was done to curtail illegal mining in the hinterlands, ensuring returns in declarations and taxes.
Another plan to deal with illegal mining would be the commencement from next month of aerial surveillance of mining districts coupled with enforcement activities such as Operation Eldorado.
Persaud said his ministry has also hired an advisor to the GGMC and personnel from his ministry have been interacting with persons mining in certain areas before any policy for that area was put in place.
Comments

The Management of Cheddi Jagan International Airport Corporation (CJIAC) is currently undertaking a massive expansion project  and a Temporary Arrivals Terminal Building was recently constructed.

Tourism Minister Shamfa Cudjoe announced the decision to close the company. (Trinidad Express) The Tourism Development Company (TDC) has ceased operations.

Cevons clearing city garbage WPA STATEMENT ON THE UNRESOLVED ISSUE OF GARBAGE COLLECTION IN THE GEORGETOWN MUNICIPALITY The WPA is deeply concerned that the Georgetown City Council's inability to honour its financial obligations to Cevons Waste Management and Puran Brothers has the potential of endangering the health and lives of citizens.
British High Commissioner to Guyana Greg  Quinn  yesterday said that it was hoped that more would have been done to push the constitutional reform process forward.

A West Coast Berbice man died after he reportedly set his one-storey house ablaze sometime around 11.20 am yesterday.