A four-year-old boy is now dead and his father seriously injured after they were involved in an accident on Saturday afternoon.
This newspaper was told that 32-year-old Lambert Benn was towing his four-year-old son Delon Henry on a bicycle along the Huis t' Dieren Public Road, Essequibo Coast when the accident occurred. Benn was reportedly at a wedding house a few houses away from his home. He then left, taking his son along on the bicycle when according to eyewitnesses he collided with the back wheel of a Guyana Power and Light vehicle.
Both Benn and his son were picked up and rushed to the Suddie Public Hospital and Henry was said to be in a critical condition at that point. On Saturday afternoon, doctors at the Suddie Public Hospital were considering air-dashing Henry to the Georgetown Public Hospital for further treatment as a result of the seriousness of his injuries. The child succumbed to his injuries yesterday morning. His father remains a patient at the hospital.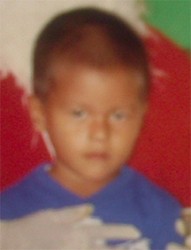 Speaking with Stabroek News, Henry's grandmother Sylvinia Henry said that her son-in-law and grandson left home on a bicycle and shortly after the incident occurred. "Lambert was at home and he was about to leave home when Delon ask his mother to go with him (Lambert). His mother told him no but then after she send him and then not long after we hear the news that they went in a accident."                 Four year old Delon was the second of three children.
The driver of the utility truck is in police custody assisting with investigations.
Comments

Legal Advisor to the Police, retired Justice of Appeal, Claudette Singh yesterday testified that there was insufficient evidence in the allegation made by Andriff Gillard of an alleged plot to assassinate President David Granger.

Today at 2 pm the 30 councillors of the Georgetown City Council will once again cast a vote on the future of metered parking in the city and several of them have told Stabroek News that they want to be sure their vote accurately represents a mandate from residents.

Crime Chief Wendell Blanhum yesterday made a written request to be recalled before the Commission of Inquiry (CoI) investigating the allegation of a plot to kill the President of Guyana to defend himself against "appalling" statements made by Assistant Commissioner of Police David Ramnarine.

Two men were yesterday remanded to prison by a city magistrate after they were charged with the fatal stabbing of Rawle Rodrigues which occurred in January.

Amid accusations that he has improperly tried to direct a constitutional commission, President David Granger said he had asked for a delay in police promotions to address complaints that have been made against law enforcers.