A driver, who admitted that he took in excess of $1M worth of gold and diamonds instead of delivering them to his boss, will be spending the next three years in prison.
Franklin Peters, 47, of Station Street, Kitty, Georgetown, accepted that after being entrusted with 30 ounces and 12 pennyweights of raw gold and 17 carats of diamonds, valued at $1,140,000, he fraudulently converted them to his own use and benefit instead of delivering them to the owner, Clive Obermuller.
Prosecutor Deniro Jones told Magistrate Ann McLennan at the Georgetown Magistrates' Courts that Peters,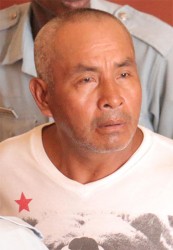 who is also a miner, worked with Obermuller, who owns a dredge in the interior.
He said that between September 1 and September 30, 2013, at Essequibo, Peters was travelling out of the interior to Georgetown and was given the gold and diamonds to deliver to Obermuller, who was also in Georgetown at the time.
The court heard that the items were, however, never delivered to Obermuller.
According to Jones, after Obermuller reported what had occurred, Peters had managed to evade police capture until Tuesday.
It was then that Obermuller spotted him in the Stabroek Market area.
The court was told that the police were then contacted and Peters was taken into custody and admitted to the crime.
The magistrate subsequently informed Peters that he would be imprisoned for three years.
Comments

Wijeyadasa Rajapakshe   COLOMBO, (Reuters) – Sri Lankan President Maithripala Sirisena today sacked the justice minister over his criticism of a $1.1 billion deal, signed last month, to lease a port to a Chinese company, the cabinet spokesman said.

NEW YORK,  (Reuters) – Two Harvard University researchers said in a study published today they had collected scientific data proving Exxon Mobil Corp made "explicit factual misrepresentations" in newspaper ads it purchased to convey its views on the oil industry and climate science.

In the wake of rising bad loans and a massive alleged fraud against it this year, the Guyana Bank for Trade and Industry (GBTI) has posted an unaudited net after tax profit of $603m for the first six months of this year compared to $961m in the same period for 2016.

Vamanadev Hiralall, of the privately-run Saraswati Vidya Niketan (SVN), is the country's top performer at this year's Caribbean Advanced Proficiency Examinations (CAPE) after achieving an accumulated 13 grade one and 3 grade two passes.

Twenty-six students in the top one percent of the 12,684 who sat this year's Caribbean Secondary Education Certification (CSEC) examinations earned 12 or more Grade I passes, with half of them, including the top performer, coming from Queen's College (QC).