An East Canje, Berbice man was found dead with marks of violence about his body in an abandoned house yesterday.
Allan Gobin, called 'Antics,' 47, was found with an injury to his head and chops to his hands and feet.
Gobin, a labourer of Lot 41 New Street, East Canje, was found lying in the abandoned house, reported to be owned by his overseas-based mother, at Moore Street, East Canje.
According to Lalita Indranarine, a cousin, her uncle had made the discovery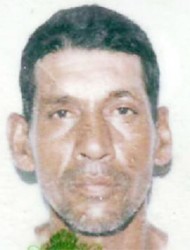 after trying for hours to find the man.
The woman stated that her uncle launched a search for the man after they had not seen him for the day. "Well, he is a man that does be most times on the road or be by somebody or at some shop drinking but we didn't see him… so my uncle went and looked for him," she explained.
Stabroek News was told that the man checked "rum shops" and asked persons in the area if they had seen Gobin but no one knew of his whereabouts. Although her uncle passed by the abandoned house on Moore Street and noticed the door ajar, he decided to check other places that Gobin would normally frequent. It was not until his search became fruitless that he returned to the home, where he found him.
Indranarine related that after her uncle discovered the body, he called her. When she arrived at the home, she saw blood splattered on the bed and floor. The family then summoned the police.
The woman added that when undertakers were removing Gobin's corpse blood was still oozing out from his injuries, which led her to suspect that the man might have been attacked sometime yesterday.
When asked why anyone might want to hurt Gobin, Indranarine suggested that persons may have wanted the house. She explained she heard a woman was occupying the house but when she had visited the home no one was there.
Gobin was a father of one.
Comments

The Public Procurement Commission (PPC) hopes that by the end of this year debarment legislation would be in place as it will soon begin meeting with stakeholders on a draft.

A bill to provide a legal framework for the protection of witnesses was passed without amendment by the National Assembly on Friday evening despite arguments by the parliamentary opposition that it failed to take into account modern challenges.

The ownership of over $7 million in local and foreign currencies and several vehicles that were all seized during a raid by the Customs Anti-Narcotics Unit (CANU) at Soesdyke, East Bank Demerara on Friday has raised questions and a separate probe is expected to be launched.

Weeks after its major oil find at the offshore Ranger-1 well in the Stabroek Block, ExxonMobil's local subsidiary is preparing to begin drilling at the Pacora-1 well site in the same area.

The final days for cancer patients can be consumed by pain and loneliness.