APNU MP Joseph Harmon has accepted an invitation by Guyana Forestry Commission (GFC) Com-missioner James Singh to have an open debate on Bai Shan Lin's logging operations and he has called for a variety of documents to be released.
This development comes in the wake of a promise made by President Donald Ramotar last Friday that he will instruct the GFC to hold a public engagement to prove that Guyana's forests are not being "raped." Further, the forestry regulator is set to hold a press conference today in an attempt to set the record straight.
Harmon's acceptance was announced yesterday by way of a letter in which he proposes that the debate be held between Septem-ber 15th and 30th.
Harmon is however requesting that certain information be provided before the debate. He is also asking that the debate be kept in an area more seriously affected by the Chinese logging company, and that the location be able to accommodate 3000.
In a letter to Harmon last Wednesday, and copied to the media, Singh noted "claims and assertions" Harmon made in the media concerning Bai Shan Lin despite "a meeting (of the Natural Resources Com-mittee of the National Assembly) at which all areas of clarification related to forestry activities, including Bai Shan Lin's operations,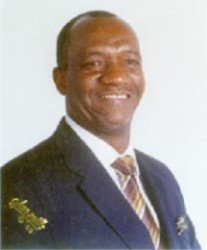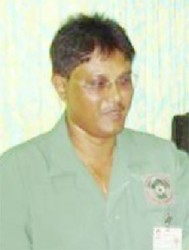 were fully addressed with relevant details provided."
One such issue deliberated on, Singh elaborated, is that "of a state forest area to Bai Shan Lin" for which he says full details were provided. It is against this backdrop that the invitation was extended. The invitation was "welcomed," Harmon responded, and, as a prelude to the debate, he is asking that "you provide the Guyanese people with…information which would help in their understanding of the issues before the event."
Harmon wants copies of all agreements between Bai Shan Lin and the GFC as well as any agreements the logging company has with the Government of Guyana (GoG); copies of all agreements between the logging company and other entities with which it is engaged in joint ventures; a report on the GFC's supervision of the above-mentioned agreements and the commission's opinion on "Landlord" in the forestry sector; copies of investment agreements which requires Bai Shan Lin to set up wood processing facilities locally; any report on Bai Shan Lin's record of compliance with regard to any agreement towards establishing a wood processing facility; and copies of documents detailing duty-free concessions granted to the company over the last five years.
Harmon also wants the GFC to disclose any tenancy agreements between itself and Bai Shan Lin which offers personal benefits to any GFC official; documents relative to work permits issued to foreign nationals on behalf of Bai Shan Lin for employment in the forestry sector; documents detailing the ratio of Guyanese to Chinese working with the company; and finally, any and all documents detailing the volume of logs exported by Bai Shan Lin.
In addition to documents, Harmon wants the debate to take place "in the public" and at a location in Linden which can accommodate approximately 3000 persons. He is also asking that all media houses be given "equal access to the debate and the total expenses associated with the event be met by GFC from its resources."
The possible debate is the most recent development since allegations surfaced that Bai Shan Lin may be ignoring the terms of its agreements. The GFC meanwhile, has been accused of defending the logging company's alleged abuses.
Harmon in his letter to Singh also said: "I welcome your offer to provide any information which is needed before the event and I am very pleased to know that your subject minister would permit you, a Public Servant to publicly debate an Opposition Member of Parliament.
"It is my hope that this major shift in government approach to the release of information will be followed in other areas of national life."
Comments

Eleven residents of the juvenile correctional centre at Onderneeming on the Essequibo Coast were apprehended between yesterday and this morning.

With growing pressure on the government over the overcrowding of jails, MP Michael Carrington is confident that the parliamentary bill in his name to ease penalties on marijuana use will gain the support of the governing APNU+AFC benches of which he is a member.
The National Toshaos Council (NTC) is to begin its conference today and high on the agenda will likely be ongoing concerns about the lands commission of inquiry (CoI) which the government has convened.
A Trinidad-based medical products company has secured four contracts worth $135.4m. According to the Ministry of the Presidency (MotP), Cabinet at its meeting on August 15,2017 noted the award of 16 multi-million-dollar contracts.

The police on Friday evening discovered an AK-47 assault rifle and a quantity of ammunition in a haversack at Kingston, Georgetown.