GFC contradicts minister's report on Bai Shan Lin's operations
Guyana Forestry Commis-sion (GFC) data on the operations of Chinese logging firm Bai Shan Lin (BSL) contradicts statements by Minister of Natural Resources and the Environment Robert Persaud regarding the joint ventures and harvesting activities engaged in by the company, raising further questions about the accuracy of information being supplied to the public by the authorities.
"Bai Shan Lin has access to three concessions where full scale harvesting operations are being undertaken," Persaud told Stabroek News in May last year. However, last week Commissioner of Forests James Singh told reporters at a press conference that of Bai Shan Lin's four joint venture (JV) arrangements, two were granted this year. This indicates that BSL would not have had approval to harvest logs in a third location last year as the areas to which the company has direct access to, are still at the State Forest Exploratory Permit (SFEP) stage.
Persaud did not respond to requests by Stabroek News for clarification on this and several other matters. For months, the minister has refused to respond to several issues queried by Stabroek News.
In May last year, when asked about the size of the area Bai Shan Lin had access to, the minister told Stabroek News that these were acquired through "legally approved JV arrangements" and he explained that BSL has access to three concessions where full scale harvesting operations are being undertaken. He had not indicated the three areas.
However, in a 50-minutes presentation at the GFC prior to taking questions from reporters, Singh last week revealed that the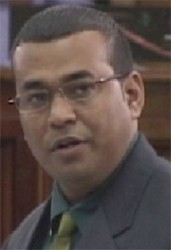 GFC board in March this year approved the JV with BSL and Puruni Woods Inc and in April approved the JV with Kwebanna Wood Products Inc. Based on this information, then BSL would not have had permission to harvest logs at these two areas before the JVs were approved by the board. However, the company had indicated previously and according to a power-of-attorney seen by Stabroek News last year, Kwebanna Wood Products was one of the companies that BSL said it controlled even before the JV was approved.
Prior to the JV approvals earlier this year, according to the GFC data, BSL had JVs with two other companies; namely Haimora-kabra Logging Company Inc and Wood Associated Industries Company (WAICO). In 2007, Danny Chan transferred all the shares in Haimorakabra as well as Karlam Sawmill to Chu Wenze, the chairman of BSL, according to the GFC and in April 2009, the JV with WAICO was approved.
The contradictory information supplied by the minister and the forestry commissioner raises questions about the accuracy of the data being supplied to the public. This has come under the spotlight recently after claims by Minister of Finance Dr Ashni Singh that the increase in timber export earnings this year was due to "an expansion in plywood exports" was not supported by GFC data. The minister's statements were contained in the official mid-year report on the economy, and when questioned, the GFC stood by its wood products export figures and did nothing to refute the claim made by the finance minister.
Following the recent press reports about its operations, Bai Shan Lin has also issued several statements and it said that between 2007 and 2008 it commenced operations in Guyana and was purchasing logs from local concession holders. In the period 2008 to 2010, the company was purchasing logs from local concessionaires and during that period, entered into a joint venture agreement with WAICO, the statement said. The company said too that in the period 2010 to 2012, it was purchasing logs from local concessionaires and "entered into another joint venture agreement with Haimorakabra." This is in contrast to the GFC, which had noted that in 2007, Danny Chan transferred all the shares in Haimorakabra as well as Karlam Sawmill to BSL chairman Chu Wenze.
Further, in addition to the conflicting information released by the authorities, back in 2012 and onwards, Bai Shan Lin was publicly disseminating that it was in control of 960 000 hectares of Guyana's forest. That figure was widely reported including in regular articles in the Stabroek News but neither Persaud nor the GFC disputed the figures until last month when Persaud, appearing before a parliamentary committee, denied that the logging firm controls over 960 000 hectares of forest. Commissioner Singh told the committee that BSL has access to 640, 000 hectares of forest, of which 345 000 hectares are under the SFEP process.
At his presentation in 2012, Wenze had identified Haimorakabra Logging Company Inc, Karlam South American Timber (Guyana) Inc, WAICO, Kwebanna Wood Products Inc, Sherwood Forests Inc. and Demerara Timbers Limited as being among several companies that are part of the company's ventures.
In addition, last year, in a Power of Attorney seen by Stabroek News, Bai Shan Lin identified Kwebanna Wood Products Inc as being one of its subsidiary companies. Given that the GFC board only approved the JV this year, this raises the question of what arrangement the company had in place prior to then and whether it was harvesting logs as has been alleged.
Last year too, the Ministry of Natural Resources in a written response to Stabroek News said that Bai Shan Lin can access forest products from other concessions by purchasing these products "after the relevant concession holders would have harvested same." It said, however, that the company cannot harvest products from any other concession area, unless they are authorised with a special permission by the GFC. The ministry said that the GFC does not grant such permissions unless it is in the national interest or for other special justification.
In relation to the JV, the ministry did not say what national interest or other special justification informed the approval of the JVs.
Singh, meantime, was also questioned last week on a GFC policy that logs can only be exported by an exporter holding a valid logging concession. "Yes, we had a policy that logs could only be exported from a concessionaire once it comes from that particular concession but the FPA has asked us to show some flexibility in that and that we have been doing with justification," he stated. Singh stated that this started "couple years back" and related that the FPA had said that no one concessionaire was able to accumulate sufficient logs to make a ship load so they ask for consolidations of logs to be accommodated and with the approval of the GFC board, this was agreed to.
He emphasised that not everyone can export. "You have to have justification, it has to go to the GFC Board," the forests commissioner stated.