A Mon Repos fisherman was found dead along the Carifesta Avenue on Saturday afternoon following a suspected hit and run earlier in the day.
Sixty-six-year-old Mohamed Bacchus was discovered at the side of the busy road by a horse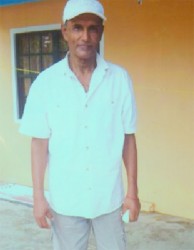 cart driver with his legs and arms broken. His net was still in his hands.
His family, however, was unaware that he had died until Monday.
His son-in-law, Ramdeo Budhram, said Bacchus left his Lot 48 Martyrsville, Mon Repos, East Coast Demerara home on Saturday morning around 2:30 am to fish at his usual spot. He stated that his wife called his phone later in the morning and it rang out. It continued to ring out when they called the next day.
"When we checked the house on Sunday he wasn't there so we made a report to the police and checked the hospital and Lyken Funeral Home but no one knew where he was," Budhram stated.
However, on Monday, he said, he saw a story in a newspaper stating that the police had found an unidentified man along Carifesta Avenue and when family members went to Lyken Funeral Home their worst fears were confirmed.
Budhram stated he was frustrated that his family did not know who had caused his father-in-law harm and left him to die. "Everything we are hearing right now is hearsay but they have snuffed out a person's life and didn't render any assistance. That's heartless," he said.
A post-mortem examination is scheduled to be conducted on Bacchus' remains today.
Comments

Vamanadev Hiralall, of the privately-run Saraswati Vidya Niketan (SVN), is the country's top performer at this year's Caribbean Advanced Proficiency Examinations (CAPE) after achieving an accumulated 13 grade one and 3 grade two passes.

Twenty-six students in the top one percent of the 12,684 who sat this year's Caribbean Secondary Education Certification (CSEC) examinations earned 12 or more Grade I passes, with half of them, including the top performer, coming from Queen's College (QC).

On the second day of the Commission of Inquiry (CoI) into African ancestral lands and other matters, four witnesses made cases for the return of lands they feel they are rightly entitled to, which were either taken by the state or occupied by private owners.

Shelton George, the man charged with both murdering a waitress at a Chinese restaurant and the attempted murder of a magistrate, was found dead in his cell at the Lusignan Prison yesterday morning.

The Chairman of the Triumph Neighbourhood Democratic Council (NDC) yesterday instructed workers employed on a private site, reportedly intended to build a first-floor pool, to cease operations, just two days after residents called on authorities to halt its construction.