A 2008 investigation launched by the military found that more than 150 weapons issued by the Guyana Defence Force (GDF) to external bodies in the 1970s, including sub-machine guns and grenade launchers, remain missing.
This is according to Lieutenant Colonel Sydney James, of the G2 Branch, who also told the Walter Rodney Commission of Inquiry (CoI) yesterday that investigations are still ongoing into just when and how the personal file for a "W. Smith," believed to be William Gregory Smith, had been moved from the army's records. Smith has long been accused of delivering the explosive that caused Rodney's death in a bomb blast on June 13, 1980.
Resuming his testimony yesterday, James said that though 237 weapons were issued, only 82 of these were returned.
James further said that the document showing just who the weapons were issued to and any other relevant information was prepared on Monday evening and was dated with yesterday's date.
Weapons were reportedly issued to external organisations such as the Ministry of National Development and two names, 'R. Corbin' and 'Corporal Skeete', played recurring roles. According to James' report, though weapons were issued to both individuals, the recipients named showed up in more than one capacities; R.Corbin's name was linked to the Office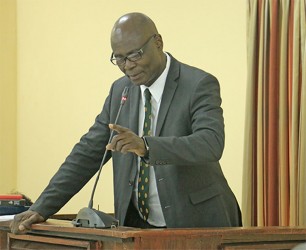 of the Prime Minister and the National Development Ministry, while Corporal Skeete was also linked to the National Development Ministry. Skeete's name also occurred by itself as well as in collaboration with the Ministry of National Development.
Weaponry, James noted, included sub-machine guns, M-70 rifles and grenade launchers. He was unable to say whether the guns were officially issued. When asked when these 82 weapons were returned, James indicated that he did not know.
"So you are unable to say whether they were returned after Burnham came out of power or before?" Lead counsel for the Commission Glenn Hanoman asked. "Sir, I am not able to say exactly when, based on the records," James replied.
James was also questioned on whether he had made any checks during the 2008 investigation into the missing weaponry to identify just who R. Corbin and Corporal Skeete were.
"Are you aware of the GDF contacting any Skeetes or any Corbins about these weapons?" Hanoman asked, to which James responded in the negative. When Hanoman indicated that the commission would be interested in speaking to Skeete and Corbin about the vouchers on which their names appeared, Basil Williams, who represents the interests of the People's National Congress Reform (PNCR) at the CoI, immediately asked, "Oh, you know them?"
Hanoman retorted, "Are you representing Corbin?"
However, Williams said, "I don't know who's Corbin. That's why I'm asking you if you know who's Corbin."
Williams further said that he had heard news reports citing the name Robert Corbin—former PNCR leader—in connection to the issued weapons; these reports, he said, are libellous, especially when one considers that the name of Robert Corbin does not surface on the documents but rather that of R. Corbin.
"I'm happy that my friend has mentioned that because we have seen documents from parliament that states that a Robert Corbin was a parliamentary secretary at the Office of the Prime Minister at the appropriate time. Those are parliamentary records and we believe we can definitely get them available," Hanoman said.
Like at previous hearings, James yesterday indicated that he did not know the identities of R. Corbin and Corporal Skeete.
James was also questioned by Hanoman on any documents pertaining to William Gregory Smith and the security afforded to any personal files. According to James, the personal file of Smith would have been classified as "confidential" and was to be stored under lock and key.
Questions were also raised on the destruction of personal files. "What is the procedure if the army were to deliberately destroy such a document?" Hanoman asked. James explained that there is no policy in the GDF for the destruction of personal files. However, he said, if files were missing a formal report had to be submitted to the G2 branch for the launching of an investigation into the circumstances surrounding the missing documents.
Missing file
Hanoman then asked whether James had received any correspondence dealing with the locating of missing personal files; James responded in the affirmative and explained that though the evidence had not been requested from the commission, he had brought the correspondences in anticipation on questions on missing personal files coming up.
According to James, he received two correspondences which suggested that two personal files could not be located. One of the missing files, James said, was that of a W. Smith with regimental number 4141. The correspondences were dated June 13 and July 25, both of this year.
"So this is the first time that the GDF is officially acknowledging that the personal file of William Gregory Smith could be found?" Hanoman asked, to which James responded, "Sir, this is the first time that I would have received correspondence in respect to this personal file not being found."
"But the fact that you have regimental number 4141 Smith means that someone carrying that number was enlisted in the army?" Commissioner Seenath Jairam pointed out; James said yes.
James acknowledged that if the files were to be moved, a record would have to be made. However, he said, the location of these records depend on the rank of the person whose file is secured.
Investigations, he said, are still ongoing on just when and how the file had been moved.
However, during cross-examination Williams pointed out a number of "irregularities" in James' documents and deemed them "bare bones." These irregularities, he noted, include lack of receipts to show a transaction for the guns and no stamp by consignees.
"You don't see any stamps for the Ministry of National Development," Williams pointed out. He continued, "These documents that we have here are really just bare bones; they're bare bones documents! They're bereft of all the relevant information that is required on the form. All the omission of these forms make them not authentic."
However, James maintained that he had said the documents were purportedly from the ministry and not officially so.
James will take the stand again today at the Supreme Court Law Library, where he will undergo further questioning.
Comments

A section of the Kitty Public Road is to be closed from Wednesday as the Ministry of Public Infrastructure steps up road works in the area.

Anil Nandlall Former Attorney General Anil Nandlall today rejected an explanation by Minister of State, Joseph Harmon over the government's directive to the Police Service Commission to halt promotions.

The improvised weapons (Prisons photo) Prison Staff this morning with the support of the members of the other services, reported for duty at the new holding area lusignan Prison.

Nicolas Maduro CARACAS/LIMA, (Reuters) – A group of 12 regional nations plus the United States rejected Venezuela's new government-allied legislative superbody, saying they would continue to regard the opposition-controlled congress as the country's only legitimate law maker.

Eighteen prisoners at the Lusignan penitentiary were being treated for injuries last night following a reported attempt to kill a fellow inmate during which warders fired shots.