Working People's Alliance (WPA) attorney Christopher Ram has requested that former People's National Congress Reform (PNCR) leader Robert Corbin be summoned to testify at the Commission of Inquiry (CoI) into the death of Walter Rodney.
Ram also requested that Secretary to the Defence Board Dr Roger Luncheon also appear to give evidence.
His request, made yesterday, came following several mentions of the name 'R. Corbin' during the testimony of Lieutenant Colonel Sydney James and it was met with immediate objections by attorney Basil Williams, who is representing the interest of the PNCR before the Commission of Inquiry.
James, head of the army's G2 branch, was tasked with providing information on the issuances of Guyana Defence Force (GDF) weaponry to external bodies and had stated during Tuesday's session that 155 weapons out of 237 issued were yet to be returned to the military.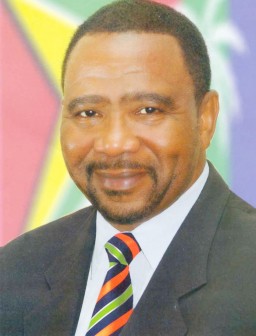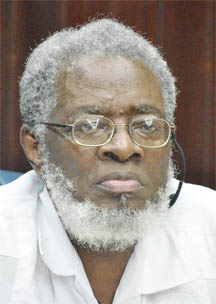 These weapons, he had said, were issued to a number of organisations and two names, R. Corbin and a Corporal Skeete, were repeatedly mentioned. In each case, the names were signed in different capacities.
Before the continuation of the cross-examination of James, Ram made his submission to the commission. However, Williams vehemently objected.
"He cannot come to you and tell you that R. Corbin is the Robert Corbin. He cannot come under the protection of the Commission of Inquiry and put to you a first premise," Williams said. He went on, "Mr. Ram has the opportunity [to cross-examine the witness]; he cannot ask you to do that from his own basis. This witness has said that he doesn't know who's R. Corbin."
In response, CoI Chairman Sir Richard Cheltenham said, "All of those matters we will have to be determined." He added that any person who thinks that he or she is being adversely represented has the opportunity to approach the Commission's Secretariat and ask to be allowed to testify to make a statement. He continued, "In addition to that, we will take into consideration that we will want to hear from Mr. Corbin, so that we can come to a certain conclusion. But that time has not yet come."
"But the time has come for Mr. Donald Rodney to come here!" Williams immediately responded, before adding, "He's a witness! I don't know how you're calling for all kinds of witnesses… bring Donald Rodney here."
Williams was instantly informed that the decision to bring witnesses lay with the Commission. "You must not try to determine the order of the witnesses," the Chairman chastised him.
"I am not doing that!" Williams retorted. "I am saying that the main witness…is Donald Rodney! He was the only eyewitness."
Williams was nevertheless told "not to get carried away."
Continuing his initial line of argument, Williams said, "I'm sure Mr. Corbin will deal with that issue himself but I am just pointing out that there is nowhere in this Commission that says R. Corbin is the Robert Corbin… there's no basis for Mr. Ram to say that; he must go outside to the newspapers and say that."
"We will deal with all of that in due course," Sir Richard assured the lawyers.
Throughout the remaining hours of yesterday's hearing, Corbin's name cropped up several more times.
Questioners included lawyer Andrew Pilgrim, who represents the interest of Walter Rodney's widow and children and Ram.
Williams also took the opportunity to raise a question on the identity of R. Corbin with James.
Williams, the first of the cross-examiners, asked James whether he had seen the name of R. Corbin appearing in association with two organisations. James answered yes, and explained that the name R. Corbin signed for 'PS OPM,' which is suspected to denote the Permanent Secretary for the Office of the Prime Minister, as well as in association with the National Development Ministry.
Williams then suggested to James that there could be many R. Corbins in Guyana during the 1970s and even now. He further noted that a name could have several "contortions," such as in the case of Gregory Smith, who is also known as William Smith and William Gregory Smith. The same, he said, could apply to the name of R. Corbin.
"Those two forms must be speaking of two different persons; you wouldn't have one at the Office of the Prime Minister today and the next day at the National Development. Do you agree with that?" Williams asked.
"I really can't say, sir," James responded. "I cannot answer that."
In his cross-examination, Pilgrim also took the opportunity to ask a few questions on R. Corbin.
"Were you able to determine the identity of Comrade R. Corbin?" Pilgrim asked. According to James, a correspondent of his suggested that R. Corbin might indeed be Robert Corbin. However, he said, "We have no definitive conclusion… he was never interviewed."
Pilgrim further questioned James on Robert Corbin's links to the Office of the Prime Minister.
"Is it correct to say that a Robert H.D. [sic] Corbin was the Parliamentary Secretary in the Office of the Prime Minister at the time?" Pilgrim asked, to which James replied, "Sir, I wouldn't be able to say."
Ram, the last cross-examiner of the day, questioned James on the issuances of weapons to R. Corbin. Noting that R. Corbin's name appeared twice on separate days, Ram asked whether James would say they were the same person based on the two signatures.
"They [the signatures] are very similar, sir," James said.
Ram went on to ask, "Is it unusual for senior ministerial functionaries in Guyana to hold more than one office?" James said it was not. Ram continued, "Is it not possible that a person could be both Parliamentary Secretary in a ministry and hold another position in another ministry?" James answered in the affirmative and noted that presently the minister of both the Ministry of Housing and Water and the Ministry of Tourism was "one and the same."
However, Williams objected and noted that in regards to R. Corbin's signature, no designation is listed for his capacity in the Ministry of National Development. Williams further said that having a public service employment and a ministerial employment could "never happen at the same time."
"We're speculating; we don't know what is the job at the National Development. There is no office or designation on this document," he said.
Ram was also warned by Sir Richard about his line of questioning and told that the Commission did not deal with possibilities.
Forced to rephrase his question, Ram asked, "Did you assume from your work that the PS [of] Office of the Prime Minister and the Ministry of National Development were associated?"
Finally, James responded, "That is correct, sir."
Comments

A sketch of the proposed Curepe Interchange (Trinidad Guardian) China Railway Construction Corporation (CRCC) has been awarded a $221.7 million contract by the National infrastructure Development Company (Nidco) to build the controversial Curepe Interchange, the state company's chairman Herbert George has confirmed.

Legal Advisor to the Police, retired Justice of Appeal, Claudette Singh yesterday testified that there was insufficient evidence in the allegation made by Andriff Gillard of an alleged plot to assassinate President David Granger.

Today at 2 pm the 30 councillors of the Georgetown City Council will once again cast a vote on the future of metered parking in the city and several of them have told Stabroek News that they want to be sure their vote accurately represents a mandate from residents.

Crime Chief Wendell Blanhum yesterday made a written request to be recalled before the Commission of Inquiry (CoI) investigating the allegation of a plot to kill the President of Guyana to defend himself against "appalling" statements made by Assistant Commissioner of Police David Ramnarine.

Two men were yesterday remanded to prison by a city magistrate after they were charged with the fatal stabbing of Rawle Rodrigues which occurred in January.