Crawford, Duguid re-elected to top posts
Veteran cricket umpire Shannon Crawford was re-elected unopposed as president of the Demerara Cricket Umpires and Scorers Association (DCU&SA) last Sunday when the body held its Annual General Meeting at the Clerical and Commercial Workers Union (CCWU).
Senior TV and on-field umpire Nigel Duguid also retained his vice-president post while Nolan Hawke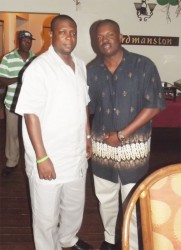 will serve as the company secretary. Former international umpire Eddie Nicholls is the treasurer and Arleigh Rutherford the assistant secretary/treasurer. Local match official Zaheer Mohamed was elected the Public Relations Officer (PRO) while the committee members are Ryan Banwari, Javed Persaud, Chetnarine Persaud and Ava Baker.
Speaking after the elections Crawford said that one of the main objectives for 2014 is to strengthen the sub associations which are Upper Demerara, East Coast Demerara, West Demerara and Georgetown, adding that Upper Demerara and West Demerara are facing some challenges.
He stated that efforts will be made to give the umpires in Upper Demerara more exposure since not much cricket is being played there.
Most Read This Week