Guyana suffered their first defeat in their final preliminary round match of this year's NAGICO Super50
Regional limited overs competition when they went under to Jamaica by 10 runs in their top of the table Group A clash at the Queen's Park Oval last night.
The Jamaicans were indebted to Nkrumah Bonner who blasted an unbeaten century as the Jamaicans recovered from 152-6 to post a challenging 243 for 7 from their allotted overs after they had won the toss and batted.
Bonner struck five sixes and eight fours in his unbeaten 122 off 157 balls. He received support from Andre McCarthy who scored 27 from 45 balls with the aid of three fours and left arm spinner Nikita Miller who scored 20.
Ronsford Beaton (2-45) and Veerasammy Permaul (2-56) continued their fine showing in the competition while skipper Christopher Barnwell captured 1-57.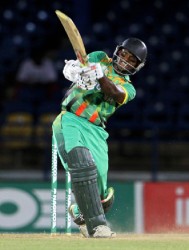 In reply, Guyana fell for 223 despite another half century from opening batsman Shivnarine Chanderpaul.
Unlike the Jamaica innings, Guyana openers Chanderpaul and Trevon Griffith gave their team a good start putting on 88 runs for the first wicket.
Griffith made 37 from 75 balls with one six and one four while Chanderpaul topscored with 65 from 101 balls. The left hander struck three sixes and two fours.
Guyana looked to be in command when they reached 124 before the third wicket fell.
However the Jamaican bowlers kept taking wickets despite the fact that the Guyanese middle order batsmen all had starts but failed to go on.
Leon Johnson made 16, Barnwell scored 11, Assad Fudadin batting at number six made 21 and Royston Crandon was run pout for 13.
The lower order tried to bring the game home for Guyana with wicketkeeper Anthony Bramble making 14, Permaul, 17 and Beaton nine before being run out to give the Jamaicans a morale boosting win  before the semi-finals for which both teams had already qualified.
SCOREBOARD
Toss: Jamaica, who chose to bat
Horace Miller c Bramble b Beaton                                            6
John Campbell c Bramble b Barnwell                                    10
Nkrumah Bonner not out                                                       122
Tamar Lambert c Bramble b Fudadin                                       7
Andre McCarthy c Johnson b Permaul                                   27
Carlton Baugh+ c Barnwell b Permaul                                      8
David Bernard* lbw b Beaton                                                   8
Andre Russell c Griffith b Bishoo                                           14
Nikita Miller not out                                                                20
Did not bat: Jerome Taylor, Sheldon Cottrell
Extras: (lb 3, w 18)            21
Total (7 wkts; 50.0 overs) 243
Fall of wickets: 1-14, 2-25, 3-45, 4-97, 5-134, 6-152, 7-170
Bowling: Christopher Barnwell 10-0-57-1 (4w), Ronsford Beaton 8-2-56-2 (4w), Assad Fudadin 6-1-17-1 (3w), Devandra Bishoo 10-0-37-1 (1w), Veerasammy Permaul 10-0-45-2 (1w), Royston Crandon 6-0-28-0
Guyana
Trevon Griffith c McCarthy b Russell                               37
Shivnarine Chanderpaul c Campbell b Cottrell             65
Robin Bacchus c Baugh b Russell                                     6
Leon Johnson lbw b Lambert                                           16
Christopher Barnwell* b Campbell                                  11
Assad Fudadin c Miller b Cottrell                                    21
Royston Crandon run out (Bernard)                               13
Anthony Bramble+ b Cottrell                                           14
Veerasammy Permaul not out                                          17
Devandra Bishoo b Russell                                                6
Ronsford Beaton run out (Campbell)                              9
Extras: (lb 1, w 15, nb 2)                                                  18
Total (10 wkts; 49.5 overs)                                       233
Fall of wickets: 1-88, 2-96, 3-124, 4-145, 5-152, 6-178, 7-192, 8-201, 9-216, 10-233
Bowling: Jerome Taylor 8-0-27-0 (1w), Sheldon Cottrell 10-1-62-3 (1nb, 8w), David Bernard 5-0-29-0 (1nb, 1w), Nikita Miller 6-1-26-0, Tamar Lambert 10-1-27-1, Andre Russell 9.5-1-51-3 (4w), John Campbell 1-0-10-1 (1w)
Result: Jamaica won by 10 runs
Man of the match: Nkrumah Bonner (Jamaica)
Umpires: Gregory Brathwaite, Leslie Reifer
TV umpire: Nigel Duguid
Match referee: Narine Bideshi
Comments

BASSETERRE, St Kitts, CMC – Batsman Emmanuel Stewart returned from West Indies Under-19 duty to immediately stamp his authority, as he steered Windward Islands to a convincing seven-wicket victory over Jamaica in the opening round of the Regional Under-19 one-day championship here yesterday.

(ESPNCRICINFO) For the first 37 overs of the game, St Lucia Stars were ahead and cruising.

The Guyana Amazon Warriors yesterday visited the St. John's Bosco Boys Orphanage at Ben Profitt Drive, Plaisance, East Coast Demerara.

LONDON, CMC – Head coach Stuart Law has praised the character of Test captain Jason Holder and says he could be an effective leader over the next decade in West Indies cricket.

LONDON,  CMC – Team manager, Joel Garner, has warned pundits to write off West Indies "at their own peril" as the Caribbean side gear up for the opening Test of the three-match series against England starting tomorrow.