The Guyana Boxing Association (GBA) along with the Guyana Olympic Association (GOA) officially launched the fistic International Goodwill tournament on Saturday at the GOA headquarters.
The tournament, which will box off on February 13 and end February 16, will feature pugilists from Jamaica, Trinidad and Tobago, St. Lucia and the host.
At the launch, President of the GOA KA Juman Yassin stated that he hopes the tournament will see the rebirth of the Caribbean Championships.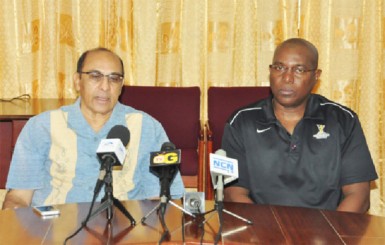 "I recall CABA, the Caribbean Amateur boxing Association championships in which most of the English speaking Caribbean countries participated," said Juman-Yassin.
"Guyana was on top but that association is no more and I sincerely hope that this tournament will be a stepping stone for that association to be born again."
GBA's head, Steve Ninvalle revealed that the tournament will be used as a means to start discussions with their Caribbean sister associations as well as a yardstick for their boxers. "We have already signaled our intention to have some discussions to develop boxing in Guyana and the Caribbean," Ninvalle disclosed.
"Our elite fighters for the first time will have to fight without headgear which will be new and we hope that the public come out and support.
"It is something that will test us and we are putting our shoulders to the wheel as it is part of our preparation for the South American Games in Chile and the Commonwealth Games in Glasgow," Ninvalle added.
Ninvalle also mentioned that the tournament organisers will be using the new computerized scoring system since AIBA's certified referee/judge James Beckles will be in Guyana for a two day refresher workshop of the new system for the tournament. (Emmerson Campbell)
Comments
Colts secured wins over Kobras and Plaisance Guardians in the Open and U-23 Divisions, respectively, when the Georgetown Amateur Basketball Association (GABA) League Championship continued on Sunday, at the Burnham Court, at Carmichael and Middle streets.

LONDON, (Reuters) – The gradual decline of West Indian cricket is hardly a new phenomenon but the latest capitulation of a once-dominant test match power has brought genuine expressions of sadness throughout the sport.

LONDON, CMC – The fallout from West Indies' humbling innings defeat to England in the opening Test weekend has continued with several of the Caribbean players slumping in the latest International Cricket Council rankings.
Upper Demerara Football Association (UDFA) and Essequibo/Pomeroon Football Association secured easy wins when the UDFA GT Beer Inter-Association Championship continued on Sunday, at the Mackenzie Sports Club ground, Linden, UDFA downed East Coast Football Association 3-1.

(Reuters) – England's Stuart Broad wants to play in the home Ashes series against Australia in 2019, the paceman has said after passing Ian Botham to take second place on the country's all-time list of test wicket-takers.