A confident St. Lucian, three-man boxing team wrapped up their six-week preparation in Castries and arrived here last night to do battle in the International Goodwill Tournament which boxes off today at the Cliff Anderson Sports Hall.
The three boxers Lyndel 'The Russian' Marcellil (light welterweight), Ron Bastien (light middleweight) and Arthur Langelier (super middleweight) along with the three officials intimated that their training camp went smoothly and are certain to grab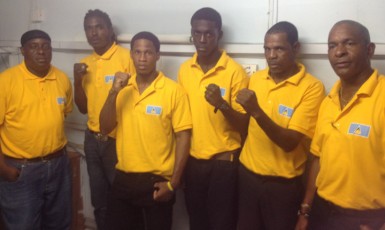 medals at the three-day event which also involves Trinidad, Jamaica and the host.
"We are very confident" said president of the St. Lucia Boxing Association, David 'Shakes' Christopher.
"We have the experience, we are looking forward to doing well and are very confident of winning here", Brian McDonald, VP of the association echoed.
"In terms of preparation, we had a six-week regimen and we are looking forward to the challenges of this competition", McDonald added.
So what is the mood of the camp?
"The mood of the boxers"? Christopher asked "They are very hungry, hungry because they haven't had much competition, they will use this as preparation for the Commonwealth and the CAC Games, and we are looking forward to this."
Coach of the team, ex national boxer, Conrad Fredericks and the three pugilists echoed similar sentiments while urging fans to come out and support the event.
'Shakes' went on to state that the event is "one of the biggest events in the Caribbean in a long time.'
He said the aim of the tournament is to "form a family to take the Caribbean boxers to a next level and that is because they are starved of competitions, we want to give it 100% support."
The Trinidad and Tobago and the Jamaican contingents were scheduled to arrive last night.
Bell time is 18:00hrs for each night of the competition. Admission is $500.
Comments

Guyana Amazon Warriors left a packed house heartbroken after folding to the Jamaican Tallawahs by two runs in a thrilling final over, as they began their home leg of this year's Caribbean Premier league (CPL) with a school boyish display, last evening at the Guyana National Stadium, Providence.

DUBAI, England, CMC – Reigning champions West Indies Under-19s will be part of history, when they kick off their title defence of the ICC Youth World Cup (YWC) against hosts New Zealand Under-19s.

Guyana ended their Group-F campaign in the CONCACAF Boys U15 Championship on a winning note, edging St.

BIRMINGHAM, England, CMC – A day that started brightly ended in typical uncertainty for West Indies, after Alastair Cook and Joe Root plundered hundreds to give England an early hold on the historic first Test on Thursday.
BASSETERRE, St. Kitts, CMC – A strong all-round performance from Javeor Royal propelled Jamaica Under-19s to a four-wicket victory over ICC Americas Under-19s in the Regional One-day youth tournament on Thursday.