From Clifton  Ross in Trinidad
Trinidad and Tobago yesterday suffered a 17-run defeat to Barbados in the final of the 2014 West Indies Cricket Board (WICB)/NAGICO Regional Super 50 tournament  in a thrilling  encounter at the Queen's Park Oval, Trinidad.
Contested in front of a sold out capacity crowd, filled to the brim by fans, stakeholders and the local Trini Posse, the home team was not so much as beaten by the boys from the land of the Flying Fish but humbled on  their home turf in front of friends and family.
It was the second such win for the new champions over their arch rivals in  the tournament and confirmed the Bajans superiority over the rest of the field.
Man of the match Dwayne Smith crafted his third half-century of the tournament and his second against Trinidad after smashing 10 fours and two sixes in his 77-ball 83. The contentious right-hander was once against supported by the more passive Kraigg Brathwaite, who scored a patient 36 from 63 balls with three boundaries.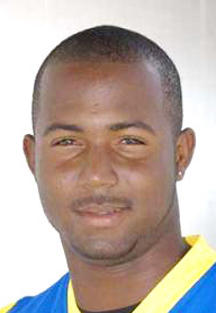 The two added 127 for the first wicket which is the highest opening stand for their country at this level and one which set up the platform for the likes of Jonathan Carter who backed up his 109 against the same team in the early stages of the tournament, by scoring a brisk 49 off 50 deliveries while being involved  in a  third wicket stand of 63 with skipper Kevin Stoute (15).
Tall left-arm bowler Suleiman Benn provided brief entertainment hitting two fours and a big six in his unbeaten 22. The Bajans, after winning the toss, chose to bat and were placed comfortable by the partnership provided by Smith and Brathwaite.
Barbados, who at one stage were 176 for 2 and seemed well on their way to a 300-plus score, lost six of their wickets for 23 odd runs in less than seven overs, eventually being reduced to 252 all out in 48.4 overs.
The Trinidad bowling attack was  led by Kevon Cooper (3-62) with support from  Sunil Narine who picked up 2 for 28 and finished the tournament with figures of 36.2-10-64-8.
Lendl Simmons chipped in with 2-23 while there was a wicket each for Ravi Rampaul and Yannick Ottley.
Trinidad's batting was marshalled by wicket-keeper Denesh Ramdin who struck six fours and two sixes in a resistant 68 which rebuilt the innings after the top order collapsed. Starts were gotten from Evin Lewis (27), a cameo 18-ball 27 by Rayad Emrit who nearly took the game from the new champions, Jason Mohamed (26) and Simmons (17).
Carlos Brathwaite (4-41), Jason Holder (2-30), Suleiman Benn (2-29) and Smith (1-35) helped restrict the Trinidadians to 235 all out in 45.5 overs.
Earlier, in the Barbados' innings the two openers got off to a quiet start but Smith soon opened up in Rampaul's second and third overs respectively, crashing boundaries along with his typical one-foot swivel shot over mid-wicket for six. Attempting a similar short-arm pull for a boundary, he was dropped on 22 by Lewis in the deep but shrugged off his near demise and continued his assault bringing up Barbados' 50 in the ninth over.
Smith soon reached to his personal 50 with a single as Barbados continued along their way raising the team's hundred in18.2 overs, compliments of a huge six by Smith off Bravo which saw the leather vanishing in the mid-wicket crowd.
The first breakthrough came when part-time bowler Simmons had Brathwaite caught behind by Ramdin. He then got the big wicket of Smith who held out to the skipper in the deep after looking well set on his maiden Regional ODI century.
Despite the trail of carnage Smith left in his path, Barbados were then rendered to new relatively new batters at the crease in Carter and Stoute. The pair batted sensibly during the middle passage before Carter was trapped lbw by Narine, falling one short of his second half-century against the red team.
Cooper's magic first came when he landed a triple blow by uprooting Carlos Brathwaite's middle stump for 9 after the right-hander got off the mark by flat-batting him for six. He then had both Stoute (15) and Shane Dowrich (1) trapped lbw. Kenroy Williams (1) was then caught and bowled by Ottley, leaving Barbados staggering at 210 for 7.
Jason Holder (5) was pinned lbw by Narine, Rampaul knocked over Ashely Nurse' wicket for 11 and Fidel Edwards was bowled by Cooper for 1, leaving Benn stranded as his team still managed to get to a safe score.
Chasing a decent target for a win at home, Trinidad rode high on the aggressive approach taken by Simmons and Lewis who got off to a flier in the first 6 overs carving boundaries off the likes of Edwards and Holder as their team raced to a 57-run partnership in 8 overs in which the pair survived multiple lbw scares and drop catches from the bowling side.
When Barbados got it right, Lewis held out to Edwards in the deep, while Ottley (0) who was bizarrely promoted to number 3, attempted a pull and hit one down the throat of Smith, giving Holder a his first two wickets.
Simmons, after looking dangerous was bowled by Carlos Brathwaite who then had skipper Dwayne (6) caught by his opposite number. Benn removed Darren Bravo for a good looking 16 after the left-hander struck a four and a six.
The former West Indies spinner then had Mohamed caught behind by wicket-keeper Dowrich, and then Brathwaite dug one into Narine who skied into the hands on an awaiting Smith in the deep, leaving the Trinidadians stuttering at 143 for 7 in the 34th over.
Searching for partners, Ramdin continued to play his shots with confidence, losing another partner in Cooper (9) who was caught plumb lbw. Smith's "golden-arm" was rich enough to have the wicket-keeper pinned lbw in the 42nd over.
The final nail in the coffin was driven when Emrit ran himself out attempting a third run, only to find himself short of his crease and had his bails whipped off by Dowrich.
Scorecard
BARBADOS INNINGS
D Smith c DJ Bravo b Simmons                 83
K Brathwaite c wkpr Ramdin b Simmons 36
J Carter lbw b Narine                            49
K Stoute lbw b Cooper                           15
C Brathwaite b Cooper                          09
K Williams c&b Ottley                           01
S Dowrich lbw b Cooper                        01
A Nurse b Rampaul                               11
J Holder lbw b Narine                           05
S Benn not out                                       22
F Edwards b Cooper                             01
Extras: (w11, lb7, nb1)                       19
Total (all out off 48.4 overs)             252
Fall of wickets: 1-127, 2-132, 3-195, 4-206, 5-207, 6-210, 7-210, 8-218, 9-241, 10-252
Bowling: DJ Bravo 5-0-40-0 (w5), Rampaul 6-0-25-1, Emrit 5-0-41-0 (w1), Narine 10-2-18-2 (w1), Cooper 9.4-0-62-4 (w3), Ottley 4-0-18-1, Simmons 5-0-23-2, Mohammed 4-0-18-0 (nb1, w1)
T&T INNINGS
L Simmons b C Brathwaite                               19
E Lewis c Edwards b Holder                            27
K Ottley c Smith b Holder                               00
DM Bravo c Nurse b Benn                              17
DJ Bravo cd Stoute b C Brathwaite              06
J Mohammed c wkpr Dowrich b Benn         26
D Ramdin lbw b Smith                                 68
S Narine c Smith b C Brathwaite                00
K Cooper lbw b C Brathwaite                     09
R Emrit run out (Edwards/Dowrich)        27
R Rampaul not out                                     09
Extras: (w15, lb9, nb3)                               27
Total (all out off 45.5 overs)                   235
Fall of wickets: 1-57, 2-62, 3-67, 4-75, 5-94, 6-142, 7-143, 8-160, 9-204, 10-235
Bowling: Edwards 9-0-62-0 (w8, nb1), Holder 8-0-30-2 (w1, nb1), Smith 3.5-0-35-1 (w1, nb1), C Brathwaite 10-1-41-4, Benn 9-0-29-2, Nurse 6-0-29-0 (w1
Comments
Colts secured wins over Kobras and Plaisance Guardians in the Open and U-23 Divisions, respectively, when the Georgetown Amateur Basketball Association (GABA) League Championship continued on Sunday, at the Burnham Court, at Carmichael and Middle streets.

LONDON, (Reuters) – The gradual decline of West Indian cricket is hardly a new phenomenon but the latest capitulation of a once-dominant test match power has brought genuine expressions of sadness throughout the sport.

LONDON, CMC – The fallout from West Indies' humbling innings defeat to England in the opening Test weekend has continued with several of the Caribbean players slumping in the latest International Cricket Council rankings.
Upper Demerara Football Association (UDFA) and Essequibo/Pomeroon Football Association secured easy wins when the UDFA GT Beer Inter-Association Championship continued on Sunday, at the Mackenzie Sports Club ground, Linden, UDFA downed East Coast Football Association 3-1.

(Reuters) – England's Stuart Broad wants to play in the home Ashes series against Australia in 2019, the paceman has said after passing Ian Botham to take second place on the country's all-time list of test wicket-takers.