Stoby, Morgan front runners for NSC top awards
A special panel selected by the National Sports Commission (NSC) will meet tomorrow at 10:00hrs at the Cliff Anderson Sports Hall to select the outstanding sports personalities and organisations for the year 2013.
As customary when the award ceremony is held, accolades are rewarded to personalities and associations in the categories of Sportsman/Sportswoman, Sports Association/Federation, Sports Official Male/Female, Junior Sportsman/Runner up, Junior Sportswoman/Runner up, Sports Team, Most Improved Associations, Best Primary School, Best Secondary School, Best Community in Sports, Sports Journalist (Print), (Non Print) and Photographer.
An award will also go to the outstanding persons drawn from people with disabilities.
For Sportsman of the year, powerlifter, Winston Stoby has four nominations, West Indies batsman, Shivnarine Chanderpaul garnered two while 2012 Olympian, Winston George, star cyclist Alanzo Greaves, Alexander Arjoon and Kevin Jeffrey received one each.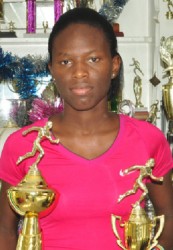 Distance queen, Alika Morgan earned three nominations for Sportswoman of the year while squash queen, Nicolette Fernandes, Cassie George and Alysa Xavier got one apiece.
Teen sprint sensation, Jason Yaw gained two nominations for Junior Sportsman of the year. One each went to badminton player, Narayan Ramdhani, table tennis player Shemar Britton and squash player, Nyron Joseph.
Priyanna Ramdhani, Chelsea Edghill, Jevina Straker and Victoria Arjoon each got a nomination for Junior Sportswoman of the year.
The nominees for Sports Photographer are Stabroek News' Orlando Charles with three. Stabroek News' Aubrey Crawford, Kaieteur News' Franklin Wilson and Guyana Times' Avenash Ramzan have one nomination apiece.
For Sports Journalist Non print, Esan Griffith was nominated by two associations while Stephan Sookram, Sean Embrack and Alethea Grant-Charles were each nominated by one association. Stabroek News' Emmerson Campbell and Chronicle's Calvin Roberts have two nominations each for Sports Journalist Print while Stabroek News' Duncan Saul and Guyana Times Treiston Joseph gained one vote each.
The Guyana Motor Racing and Sports Club (GMR&SC) snared two nominations for association of the year while the Guyana Table Tennis Association (GTTA) and the Guyana Squash Association (GSA) got one each.
Its president, Johnny Carpenter got two nods for official of the year. Godfrey Munroe, Peter Green, Michael April and K.A. Juman Yassin all received one.
The Guyana Amateur Powerlifting Federation's team received two nominations for Sports Team of the Year while one vote went to the teams of the Guyana Hockey Board of Control, the Junior Carifta Games team and the Guyana Senior Squash Team.
Carl Ince got two nominations for Male Coach while one each went to Terrence Poole and Linden Johnson.
Sherlyn Hermanstine, Amanda Hermonstine, Lavern Thomas and Nicolette Fernandes each got one nomination for female official.
The Guyana Boxing Associations got two nominations for Most Improved Association. One apiece went to the GTTA and the GSA.
A date and venue for the award ceremony will be announced subsequently.