ST. JOHN'S, Antigua, CMC- Former West Indies captain, Sir Richie Richardson, is encouraging the youth in Antigua & Barbuda to emulate the achievements of cricket legends who were knighted here last Friday.
Richardson and two other former international Antiguan cricketers, former fast bowlers Sir Andy Roberts and Sir Curtly Ambrose, received knighthoods during the first One Day International (ODI) between England and West Indies at Sir Vivian Richards Cricket Grounds.
"Hopefully, it's an inspiration for a lot of our young people, not just to become cricketers or sports persons, but just to aspire to be the best they can be so that they can be recognised, not only by the country, but by people internationally and that's what life is all about,"  Sir Richie said.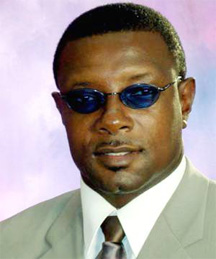 "It's not just about living simply. It's about working hard and devoting yourself to whatever you do and to become great."
Since receiving his knighthood, Richardson said he has been approached by a number of young players fascinated by his achievements.
"(Sunday), two young guys stopped me and asked me for my autograph and they said they want to become cricketers and one of them said, 'I want to be like you one day' and as a matter of a fact, he said he would see me soon, meaning that he is going to make the West Indies team," said Richardson, who captained West Indies in 24 Tests between 1991 when he took over from Sir Viv Richards.
"I was really inspired by that and that's what it is all about. Things like that really make me feel good because I see myself as an example for young people."
West Indies won Friday's match by 15 runs but lost by three wickets on Sunday. The third and final ODI will be played today at the same venue.
Comments

BASSETERRE, St Kitts, CMC – Batsman Emmanuel Stewart returned from West Indies Under-19 duty to immediately stamp his authority, as he steered Windward Islands to a convincing seven-wicket victory over Jamaica in the opening round of the Regional Under-19 one-day championship here yesterday.

(ESPNCRICINFO) For the first 37 overs of the game, St Lucia Stars were ahead and cruising.

The Guyana Amazon Warriors yesterday visited the St. John's Bosco Boys Orphanage at Ben Profitt Drive, Plaisance, East Coast Demerara.

LONDON, CMC – Head coach Stuart Law has praised the character of Test captain Jason Holder and says he could be an effective leader over the next decade in West Indies cricket.

LONDON,  CMC – Team manager, Joel Garner, has warned pundits to write off West Indies "at their own peril" as the Caribbean side gear up for the opening Test of the three-match series against England starting tomorrow.