Annandale will face Strathspey Primary School in today's semi-finals of the Central East Coast zone of the Guyana Cricket Board (GCB)/Scotiabank Kiddy Cricket Festival at the Enterprise ground at 10am, with the winner taking on Enterprise in the finals from 12 noon.
In yesterday's game at the Enterprise ground, Strathspey defeated Lusignan Primary by 6 runs. Openers Randy Andrews (12) and Vadim John (12) started well for Strathspey by providing a 28-run partnership in their 2 overs at the crease, before Lusignan's Evald Hendricks took 2-5 in the middle to ease the flow of the runs.  Strathspey's batters, who never tried to increase their scoring rate, preserved their wickets but thanks to Lusignan's bowlers who delivered 26 extras, their innings ended at 144-4 in their 10 overs.
Andrew Killu's focused innings of 13 in the lower order, aimed at getting Lusignan past their target but they fell short by six runs close to their innings at 138-4 in 10 overs.
The second game was a close contest between Annandale and Company Road primary schools, with Annandale Primary winning by two runs. Taking first strike Annandale Primary made 122-3, with John Roopnarine top scoring with 16. Rudolph Rambatt (12), Delwyn Boyce (10) and Reckimiah Sandy (10) supported Roopnarine's effort to build their team's total.
During their turn at the crease, Company Road were two runs short at the end of their 10 overs for the loss of 4 wickets.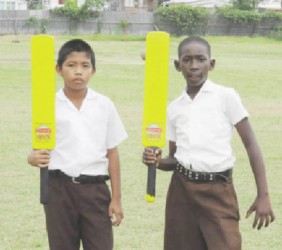 Enterprise held their nerves for a tense four-run victory against Ann's Grove Primary to qualify for the finals. Batting first Enterprise Primary made 152-6 on the back of effective batting by Vickram Narine who made 12 and the in-form Edmond Pearson who top scored in both of Enterprise's previous games finishing with 10. Their total was also assisted by wayward bowling by Ann's Grove's bowlers who delivered 26 in extras.
Tyrese Bowen and Shamal Adams took two wickets each for Ann's Grove, who in reply scored 148-4 in their allotted overs. Shamia Adams and Lawrence Pelleu were the principal scorers with 10 each, while Enterprise's bowlers Navindra Narine and Clinton Alexander took a wicket each.
The final match of the day saw Annandale Primary returning for their second fixture of the day to defeat Enmore Primary by 21 runs. Good batting by Delwyn Boyce (18) and Shawn Roopnarine (12) enabled Annandale Primary to register a total of 187-8 in 10 overs.
Bowling for Enmore Primary, Marvelyn Phillips and Joshua Rahaman were the chief wicket takers with 2-7 and 2-10 respectively. Enmore replied with 166 all-out at the end of their 10 overs, with Sasenarine Harich (16), Phillips (10) and Farrien Mohamed (10) the main scorers.
Bowling for Annandale, Roopnarine was very destructive, claiming four wickets for 10 runs, with support coming from Rudolph Ramdatt and John Roopnarine who claimed two wickets each.
Comments

A resurgent Guyana Amazon Warriors side completed a comprehensive seven wickets victory over the out-of-sorts St Lucia Stars to cruise to their second consecutive home win in the Caribbean Premier League (CPL) at the Guyana National Stadium, Providence, last evening.

BARCELONA,  (Reuters) – Barcelona are suing Neymar for 8.5 million euros ($10.00 million) for breach of contract as they want him to return the bonus he was paid when he signed a new five-year deal just nine months before joining Paris St Germain, the Spanish club said yesterday.
(Reuters) – Cristiano Ronaldo will have to serve his five-match ban for pushing a referee after the Spanish sports court (TAD) rejected Real Madrid's appeal against the length of the suspension, Spanish media reported yesterday citing court officials.

A 90th+3 minute strike secured Western Tigers a 1-1 draw with Georgetown Football Club (GFC), when the Corona Beer Invitational Football Championship continued on Monday at the GFC ground, Bourda.

Despite concluding the CONCACAF u15 Boys Championship with only one victory from four matches, Guyana Football Federation (GFF) President Wayne Forde said, he is delighted with the team's overall performance.