The 2014 cycling season will resume tomorrow in the National Park with the staging of the inaugural Star Party Rental 11-race programme.
According to organizer of the event, Hassan Mohamed, the day's activities are scheduled to pedal off at 09:00hrs.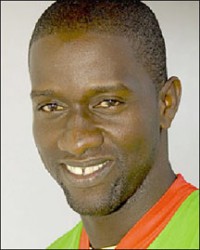 Lucrative cash incentives along with trophies will be rewarded to the top riders in each event.
Mohamed also noted that a fiercely contested day of racing is anticipated since all the riders will be keen on taking pole position.
National cyclist, Raynauth Jeffrey, last year's most successful cyclist, Alanzo Greaves who won 22 races, Marlon Williams, Geron Williams, Orville Hinds, Paul De Nobrega, Robin Persaud and Godfrey Pollydore are some of the senior cyclists who will be pedalling for the top honours in the feature 35-lap event.
The Juveniles along with the Veterans Under-50 races are slated to be keenly contested.
Other events that will pedal off include: the 12 to 14 years boys and girls (3 laps), veterans over-50 years (5 laps), veterans over-60 years (5 laps), upright cyclists (5 laps), BMX boys open (3 laps), BMX boys 12 to 14 years (3 laps), BMX boys 9 to 12 years (3 laps) and BMX boys 6 to 9 years (3 laps).
Mohamed said his aim in 2014 is to surpass the 42 events he organized last year, he however stated that that feat can only occur through solid support from corporate Guyana.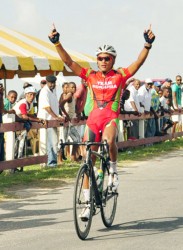 He noted that CEO of the company, Lennox Cush has sponsored other disciplines, and is now venturing into cycling. Mohamed welcomed the support and added that more sponsorship will mean additional avenues for the riders to showcase their talents.
Cush along with staff members of his company are expected to be on hand to assist in the presentation of prizes to the top performers.
Comments

Regal Masters, Speedboat and Trophy stall Angels emerged champions of their respective categories in front of a packed Zeeburg Community Centre Ground, East Bank Essequibo Sunday in the Guyana Floodlight Softball Cricket Association (GFSCA) Mike's Pharmacy, Nauth Motor Spares and Trophy Stall softball tournament.

KINGSTON, Jamaica,  CMC – Jahmar Hamilton slammed his sixth first-class hundred, but Raymon Reifer fell agonisingly short of his second, as West Indies A moved into a superior position against England Lions in the second "Test" yesterday.

Bent Street was crowned the inaugural Magnum Mash Futsal champions after they defeated Sparta Boss 3-2 on penalty kicks Sunday night at the National Gymnasium, Mandela Avenue.

Coach of the Guyana Jaguars cricket team, Esuan Crandon, says that he is pleased with his side's showing in the ongoing Cricket West Indies (CWI) Regional Super50 festival.

The karatekas were on fire Sunday at the Association do Shatokan Karate – Guyana (ASK-G) National Karate Championships at the Young Men's Christian Association (YMCA) Thomas Lands with the adult brown and black belts taking over the floor with some surprising and stunning performances in the Kata event.