A scintillating 125 off 43 balls from opener Shimron Hetmyer set up a colossal 123-run win for Universal Solutions Bermine against Blairmont in the final of the Port Mourant Cricket Club (PMCC) 15/15 cricket competition held at the Port Mourant Cricket Ground, Berbice on Sunday.
The young West Indies opener completely razed the opposition during his lightning fast century which featured 17 fours and five sixes as he steered his team to a monstrous 192 for 7 off a mere 13 overs after rain forced two of the allotted overs to be shaved off. Deveshwhar Prashad  picked up 3 for 31 from 3 overs amidst the carnage.
The man-of-the-match left-hander was as savage as ever in his innings which resembled that of a 4th July celebration, bringing up his half-century off just 19 balls and his hundred off 34. Bermine got off to a flier bringing up their 100 runs in just six overs, with Hetmyer leading the attack from ball one managing a four or six off nearly every three balls.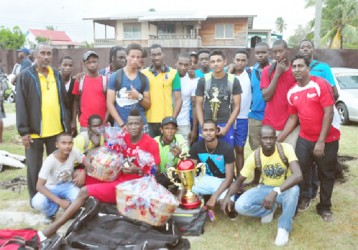 He went so far as to slam four huge sixes off consecutive balls in the 8th over which left the umpires with no option but to find four new balls.
In reply Blairmont stumbled to 69 for 4 in 8.4 overs after the officials were forced to call off the match at 17:15hrs due to rain. Blairmont skipper Keith Fraser attempted to counteract with a 19-ball 32, but thanks to all-rounder Steven Latcha's 2 for 13, Bermine effortlessly mowed down their opponents.
The tournament featured two preliminary matches with the winners going into the final. The first match saw Everest Cricket Club (ECC) losing to Bermine by eight wickets.
Everest were restricted to 112 for 7 off their 15 overs with their skipper Troy Gonsalves cracking four fours and three sixes in his top score of 46. He was supported by senior Guyana leg-spinner Amir Khan who chipped in with a well-played 30. Latcha (3-15) and Troy Mickle (2-21) were the main wicket-takers for Bermine.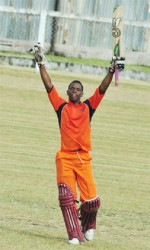 Replying to the particularly small total on a good batting deck, Hetmyer began his day's assault by clobbering eight fours and three sixes in his first half-century of the day, a 28-ball unbeaten 65, while Dominic Rikhi scored 41 off 29 with three boundaries as Bermine knocked off the total in 10.2 overs. Gonsalves and Khan finished with a wicket each.
The second match saw the home team Port Mourant Cricket Club (PMCC) falling short of a win by 19 runs against Blairmont in what ended up being a nail-biting encounter with the momentum shifting back and forth from both camps.
Batting first, Philburg Willburg's 39 off 32 and Fraser's 19 off 11 was enough to take their team to a winning score of 113 despite losing all their wickets in the 15 allocated overs. Willburg struck four eye-catching fours while the more pugnacious left-handed Fraser managed a four and a six. Yudendra Harainaraine snared 4 for 14 while Devindranauth Thakordeen captured 2 for 14 in a disciplined bowling effort.
All-rounder Clinton Pestano hammered two fours and three big sixes in his 37 off 20 which swung momentum back in PMCC's favor after the home team lost a few big guns in former national wicket-keeper Delbert Hicks and current national all-rounder Rajiv Ivan who went cheaply. Aveshkar Seekaran grabbed 4 for 14 while Prashad claimed 3 for 18.
Hetmyer who was adjudged the MVP of the day finished with 190 runs, 25 fours and eight sixes from the two innings he played.
The Guyana Volleyball Federation (GVF) exhibition match saw the dominant PMTC team sweeping the soldiers of the Guyana Defense Force (GDF) three sets to two in a highly competitive match.
PMCC President Vickram Seubarran during brief remarks thanked the supporters and players for their contributions to the day's events which was a success in the respect of the club's goal of raising funds in order to purchase covers for the ground.
Both winners and runners-up from the two respective disciplines received cash prizes, trophies and hampers.
Comments

A resurgent Guyana Amazon Warriors side completed a comprehensive seven wickets victory over the out-of-sorts St Lucia Stars to cruise to their second consecutive home win in the Caribbean Premier League (CPL) at the Guyana National Stadium, Providence, last evening.

BARCELONA,  (Reuters) – Barcelona are suing Neymar for 8.5 million euros ($10.00 million) for breach of contract as they want him to return the bonus he was paid when he signed a new five-year deal just nine months before joining Paris St Germain, the Spanish club said yesterday.
(Reuters) – Cristiano Ronaldo will have to serve his five-match ban for pushing a referee after the Spanish sports court (TAD) rejected Real Madrid's appeal against the length of the suspension, Spanish media reported yesterday citing court officials.

A 90th+3 minute strike secured Western Tigers a 1-1 draw with Georgetown Football Club (GFC), when the Corona Beer Invitational Football Championship continued on Monday at the GFC ground, Bourda.

Despite concluding the CONCACAF u15 Boys Championship with only one victory from four matches, Guyana Football Federation (GFF) President Wayne Forde said, he is delighted with the team's overall performance.