Guyana's prolific left back Walter Moore continues to make his name internationally, while his native team remains stifled with inactivity. Moore, who was recently contracted to Fc Vostok in the Europa league qualification, had a great season while there but was recently inked by Fc Astana 1964 for this new season. The one year contract is expected to give the Agricola, East Bank Demerara resident much needed playing time until the summer.
The ecstatic player told this publication that he is more than happy for his latest blessing since nothing much is going on with Guyana's Football. He is however optimistic that his performance on the international scene can open doors for other Guyanese players and is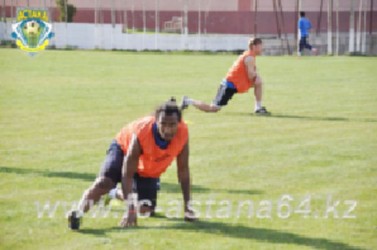 eager to see more football being played and dominating the news at home instead of more football politics.
Moore didn't hold back on his love for playing in Kazakhstan which he says is very rewarding as he gets to improve his skills and be part of the ever growing league.
"It's always good to fly Guyana's flag in a country that football is recognized and as you can see, Guyanese players can also compete at the top level. I would like to win some Silver-wear at the end of my stint and I have gained a lot of experience in the game since I came over here. And again, my wish is to open more doors for more Guyanese players," he stated.
Moore, along with former technical director of Guyana Football Jamal Shabbaz were instrumental in another recent signing of Guyana's defender Jamal Smith, by talking to agents, teams and coaches. Another player dribbling waves internationally is Trayon Bobb who was picked up by FK Kruoja in Lutawia and is doing great with his team.                                           Moore is adamant that once given the opportunity, a lot of local players will inked by international teams. He sees the level of local football skill-wise with not much of a difference to Kazakhstan, except for better facilities there which brings out the best in players.
"With all the limitations we have in Guyana, I would like to single out and complement Alpha United and Slingerz FC for their professionalism and approach to the game and players. I truly believe that once given the sponsors backing, Guyana's football can be taken to another level and everyone will benefit including the Tourism and Business sector," he opined.
The fleet footed player went on to make a call for more activities for national players. He says his wish for football in Guyana at the moment is for the national team to play some games.
"As a player, if your national team is not active, it's even harder to get a contract abroad. It's the first thing coaches ask. Are you playing for your country or are they active now? So I would like to see Guyana play at least two games per year and I don't think that's too much to ask for so please understand this reality," the international player begged.
The 29-year-old Guyanese, who has five sisters and two brothers, started his football career at the Georgetown Football Club before moving to Fruta Conquerors. He then ventured overseas to the Leo Victor Club in Suriname and after one season there, he journeyed to Trinidad where he joined the North East Stars for another season. After much success, he was signed by Calidonia AIA for an extensive period which lasted 7 years. He then went on to the Charlotte Eagles of the USL Pro League in the USA before heading to Kazakhstan.
Comments

Yesterday, in perfect conditions for racing at the National Park, Paul DeNobrega sprinted off with the spoils of the feature 35-lap event of the fifth Banks DIH's Non-Alcoholic 11-race programme.
Back Circle will battle Tigerbay, while Future Stars will oppose ESPN in the semifinal round, following quarter-final wins on Friday, in the 3rd Annual Xtra Beer 'Ballers in the Summer' Street Football Championship.

The Guyana Amazon Warriors' horror run in this year's edition of the Caribbean Premier League (CPL) continued yesterday, as they crumbled to yet another defeat, this time falling by seven wickets to top of the table Trinbago Knightriders at the Guyana National Stadium, Providence.

BIRMINGHAM, England, CMC – West Indies suffered a humiliating innings and 209-run defeat in the historic day/night opening Test after losing 19 wickets in a devastating capitulation on Saturday's third day at Edgbaston.
Guyana's Men's and Women's teams will have the opportunity to be crowned as Caribbean Champions when the NLA XXV Senior Caribbean Squash Championships conclude today in Kingstown, St.