Asks Emmerson Campbell
Dexter 'De Kid' Marques made the first defence of his World Boxing Council (WBC) CABOFE flyweight title, a successful one last Saturday night, with an impressive unanimous victory over Jamaican, Rudolph 'Cutting Edge' at the Cliff Anderson Sports Hall.
The skillful, entertaining boxer, who has been unbeaten in three years, now has a record of 14 wins and two losses with five of those fights ending inside the distance.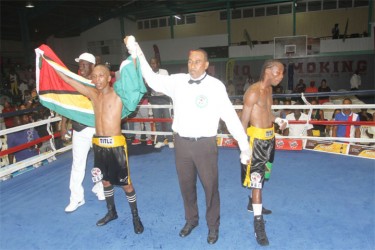 Speaking with Stabroek Sport yesterday, his trainer, Lennox Daniels revealed that he was very pleased with the performance of his fighter who is on a six-fight win streak.
Best fight 
"That was not just one of his best fights that was his best fight" Daniels said. "I was very impressed with his performance, I'm sure the fans will agree with me that he stood out tremendously."
It was certainly 'De Kid's best performance of his seven-year professional career and following instructions of his legendary trainer paid dividends.
"Dexter followed the instructions and was much focused" said Daniels.
"He looked composed and solid with his execution, his mind set was there we looked at the tapes and we took advantage, we used a lot of lateral movement.
All Hedge has is a double jab and a right hand and we were looking for that and countering that all night."
What is next for the champion? 
"I can't really say, management has to put things in place but I know he is supposed to fight for the Commonwealth title soon and as soon as management put things in place we will restart training for his next fight."
Marques told this publication that he was happy to have made the first defence of his title, and that after a short rest he will be back in the gym getting ready for whatever opportunities are in the ring.
World Title
"The world title is my goal and I just have to do everything possible now to get there. I trained very hard for this fight and this will be the pattern for the future. Anybody in my way has to be put to the side."
Whoever Marques ends up boxing next, he is in no hurry to give up the belt.
"I'm massively determined to stay champion, there's only me and a few other people who really know how far I've come," he said in reference to his past.
"I'm training hard and sticking to my diet and everything correctly.
Marques also said he would be happy to give Hedge a rematch since it would be something boxing fans would relish.
Around the Web