Whether you like it or not we are officially in the 'Kerwin Clarke Era" in local bodybuilding.
On March 29 before a raucous crowd at the National Cultural Centre, the muscle man dubbed 'Chisel' carved out another Hugh Ross Classic (HRC) win, proving that he is not a flash in the pan.
His repeat came on the heels of winning his first Novices Championship in 2011, his first Mr. HRC in 2012 and the Mr. Guyana title last year, yes you guessed it on his first attempt. Clarke has won every local competition he has entered, each on his first try.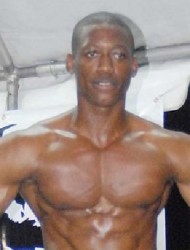 In the past three year's bodybuilding fans in Guyana have grown accustomed to the words "the winner is Kerwin Clarke" proving his domination and consistency on the local shores.
Clarke's superior level of detail, definition, fullness and conditioning sets him apart from every other bodybuilder in Guyana.
But after slicing through local competition for the past three seasons, Clarke has failed to pose and flex his award winning physique to the top of the podium overseas.
In his two appearances at the CAC Bodybuilding Championships, the 26-year old snared bronze on both occasions.
Clarke is looking to change that and begin a new Golden Era on the international stage.
"I want to simply better those performances at that level and try for the gold" Guyana's premier bodybuilder told Stabroek Sport recently.
"I did my assessment on the level of competition at CAC and I'm training myself to capture a gold in St Maarten in October" he added.
Clarke flexed his way to the bronze in Puerto Rico two years ago when he competed as a lightweight. Last year he mirrored that achievement in the Dominican Republic in the welterweight category.
In St. Maarten, he will compete as a light middleweight, a more competitive class.
"It will be a very competitive class" Clarke noted. "But I am up for the competition, I want to win that elusive gold no matter what."
Before he travels to St. Maarten however Clarke plans to repeat as Mr. Guyana.
"The focus before CAC is on repeating as Mr. Guyana, I will be using the national stage as a warm up" Clarke boasted.
During the interview, Clarke also thanked his work colleagues at the Ministry of Foreign Affairs, Fitness Express for making his supplements and nutrition readily available, Industrial Supplies and Services and his team for their support.
Let the Golden Era begin.
Around the Web