Asks Emmerson Campbell
Boxing superstars are not born into the role; they earn that title by paying their dues usually in the amateur ranks then onwards and upwards to the pay-per view arenas that holds the sport's true riches.
After 76 bouts in the amateur ranks of which he won 72, Clive 'The Punisher' Atwell turned pro with aspirations of someday fighting for riches and world titles under the bright lights of pay-per view arenas.
Thirteen fights later (all in Guyana) Atwell's dream has become a reality.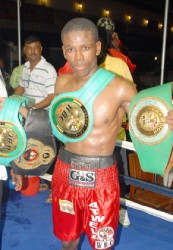 On May 24 in Acapulco, Mexico, the undefeated 25-year-old pride of Guyana will face knockout artist Jhonny Gonzalez 55(47)-8-0 for the Mexican's WBC world featherweight title.
But is the national featherweight, lightweight and WBC CABOFE featherweight and light welterweight title holder prepared for this opportunity of a lifetime?
"Atwell faces an uphill battle" were the words of president of the GBBC and CABOFE, Peter Abdool when he broke the knockout news to the media on Tuesday.
Atwell, 12(7)-0-1 is no doubt the underdog. The 32-year-old Gonzalez's record is almost five times that of Atwell's. Gonzalez has knocked out almost seven times the amount of opponents Atwell has. The Mexican will have tens of thousands of fans cheering for him and did I mention that May 24 will be the first time that Atwell will be fighting professionally out of Guyana?
The odds are against 'The Punisher' and he knows it but he is not intimidated, he is ready to grab this opportunity with both gloves.
"I'm not intimidated, it's boxing, I want to win, he is coming to win, he has two hands and so do I and we both have to fight according to the rules so there is nothing intimidating about my opponent" Atwell said Tuesday.
Upsets happen especially in the sport of boxing, ask Manny Pacquiao.
Can Atwell, just after 13 professional fights against the likes of Orlan Rogers, Revlon Lake, Rudolph Fraser, Glenroy Beckford and other journeymen, wrest the world title away from the man who is a two-division world champion, having formerly held the WBO Bantamweight Championship?
Can Atwell stand up to the man that dispatched of Abner Mares in the first round last August to be crowned champion and whose alias is 'Bombardero' which translates to 'Bomber'?
Will Atwell shock the world, remain undefeated and become the eighth Guyanese to win a world title?
In a Stabroek Sport article printed on April, 23, 2013, this writer asked the question "Can Clive Atwell win a world title in a stacked featherweight division"?
I am asking the same question today.
One year, one month and a day after the article would have been published (May 24, 2014) all questions will be answered.
One of Jeffrey Archer's (Author of Kane and Abel) bestselling novel is entitled "Only Time Will Tell".
Stay Tuned.
Around the Web