An unbeaten innings of 48 from Zachary Jodah led Grade 4C to a nine-run victory over Grade 6A in the final of the School of the Nations sponsored inter-class cricket competition played recently.
In the final of the Primary Division, Grade 4C batted first and was indebted to Jodah who scored 48 of his team's total of 58 scored from their allotted 10 overs.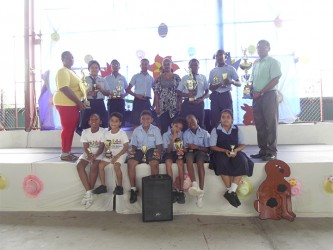 In reply, Grade 6A replied with 39 in 10 overs.
In the final of the Secondary Division, Form 3F defeated Form 4B.
No scores were available for this match although Raymond Perez won the award for scoring the most runs, 71 not out while Daunita Jaundoo was adjudged the best bowler with figures of 4-3.
In the Inter House final, Arawak defeated Carib with Perez again the most outstanding batsman with 94 while Sasha Murray was adjudged the best bowler with figures of 2-21. Perez, Daniel Sears and Aaron Evans also received awards for outstanding performances in the semi finals.
Also receiving prizes for performing creditably were Joshua Kissoon, Mya Caesar, Aaron Evans, Marie Taylor, David Bisson, Samuel Booker, Javier Rodrigues, Emmanuel Major, Jodah, Rebekah Gharbaran,, Sasha Murray, Brian Jagmohan, Jaina Nash, Macy Morgan, Kris Raiawan and Devin Shivray.
Around the Web