Guyana's golden girls at the recently concluded CARIFTA Games, Cassey George and Kadecia Baird stated that their achievements were "dreams come through" that bode well for the future of their respective careers.
"It was definitely a dream come through for me", George told Stabroek Sport yesterday in her first interview since returning from the Caribbean's marquee track event on Tuesday.
The 15-year-old won the 1500m and 3000m events at the 43rd edition of the Easter weekend Games in Martinique.
With the medals slung around her triumphant neck, the pride of Linden added that she hopes to garner scholarship interests since many scouts are usually at the Games looking for standout talents.
After winning the 1500m, George completed the U18 girls 1500/3,000m double by besting Jamaicans, Britnie Dixon and Shanieke Watson.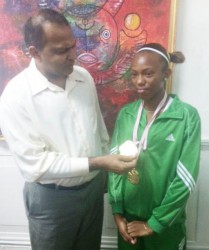 For the fourth form student of the Christianburg/Wismar Multilateral it was her fourth medal at the Games. Last year in The Bahamas she earned gold in the 1500m and snared silver in the 800m.
Next year's Games will be staged in St. Kitts and George will be looking to add more medals to her collection.
The US-based Baird who struck gold in the Under-20 Girls 400m but literally fell to a second place finish in the 200m, noted that "the gold medal win was great".
"Going into CARIFTA that was my biggest thing, to get the gold. I really wanted to get the double but it was unfortunate that I fell but I'm still happy."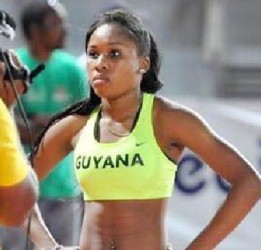 The 19-year old CAC gold medallist and World Junior silver medallist who copped bronze in the quarter mile event in The Bahamas last year added that "The gold at CARIFTA was something I really wanted to add to my achievement.
"After I struggled with the hamstring injury last year, this year was like a revenge year for me."
So what are some of the immediate goals for the Medgar Evans High School senior?
"My goal is to stay healthy and continue to perform well. I have meets like the Big 10 Conference, Regionals, the NCAA and the World Juniors coming up so my aim is to stay healthy and do well at them."
With the four medals, Guyana placed fourth overall for the annual Games.
Jamaica finished with a record 88 medals while, T&T finished with 25. Barbados placed third with 16 medals.
Around the Web