-Says GFF's Matthias
During the first year of his tenure, GFF incumbent, Christopher Matthias has had a No Confidence motion filed against him and has seen some of those elected to serve the interest of Guyana's football resign as the federation battles what seems to be an orchestrated attempt to damage Guyana's football irreparably.
However, despite a tumultuous year at the helm, during which he has faced many challenges including numerous letters in the press with a whole host of unsubstantiated allegations, Matthias is adamant that he is still the best man for the job.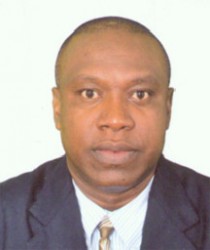 Ahead of the federation's first Ordinary Congress today at the Regency Suites, the GFF head sat down with media personal yesterday and outlined some of the positives that occurred since he took office.
"We have successfully run our National Premier League," Matthias pointed out. "We have put our constitution on the website because we have nothing to hide.
"Everything that was asked of us legitimately by the government with regards to the Goal Project we have done."
He added "Working along with Mr. O'Jeer, Mr. France and Ms. Howard we have delivered and we are serious with our intentions of giving Guyana's football its own home.
"We are still waiting on the government to sincerely express such a commitment."
Matthias further revealed that "We have started our football database so that we would not be in the predicament of being unable to say who has the most national caps, who has the most goals or who scored the first World Cup goal for Guyana.
"Apart from that, we have upheld the principles of transparency and accountability and we are working towards empowering every person who is involved in football by sharing our knowledge so that we can have a quality of football that Guyana can be proud of."
Matthias also revealed that 1184 football matches sanctioned by the GFF have been played since he was elected.
So what would Matthias like to see at the Congress?
"We are sincerely trusting that given another golden opportunity at this Congress to indicate an objectivity that is unparalleled and adopt a measure which shows they have a collective understanding, conscience and approach for football development.
It has been missing for too long and it needs to be embraced."
The congress commences at 10:00hrs. The associations, affiliates and invited observers are scheduled to be present.
Around the Web