GROS ISLET, St. Lucia, CMC – Jermaine Blackwood and Nkrumah Bonner were both dismissed within sight of breakthrough hundreds to give Jamaica early control over Windward Islands in the Headley/Weekes Trophy Final yesterday here.
Blackwood has so far hit the top score of 94 and Bonner supported with 88, as Jamaica, sent in to bat, reached 232 for three in their first innings at the close on the opening day of the finale to the Regional Four-Day Championship.
Blackwood and Bonner shared a Jamaica record for the second wicket against the Windwards of 180 to take the sting out of their opponents' attack, energised by the sight of a hard, true Beausejour Cricket Ground pitch with several patches of grass and the early scalp of left-handed opener John Campbell.
After an early flurry of strokes, the two young batsmen settled down and batted resolutely through lunch and tea to set up their side, but failed to reward their hard work with career-defining hundreds.
Blackwood was adjudged lbw coming onto the front-foot and playing across a full-length delivery from Kenroy Peters, one ball after the left-arm medium-fast bowler unsettled him with a rib-tickler. He struck seven fours and one six from 207 balls in four hours.
Bonner was brilliantly caught at second slip, when he got a thick edge chasing a short, wide delivery from Mervin Mathew for Sunil Ambris to dive to his right and pouch a fine one-handed catch. The Jamaican opener hit 11 fours from 205 balls in 4-½ hours.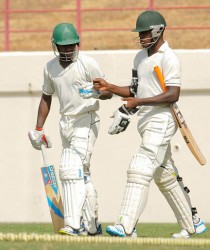 They were both dismissed in the first hour after tea, leaving Andre McCarthy, not out on 29, and their captain Tamar Lambert, not out on 14, to bat through the final hour and consolidate the visitors' position.
Earlier, Jamaica reached 94 for one at lunch, after Campbell was caught behind for two in the third over of the day, playing forward to left-arm fast-medium bowler Delorn Johnson.
The visitors were then seven for one, but Blackwood joined Bonner and batted for the rest of the morning period to give their side a good foundation.
Blackwood reached his 50 from 102 balls, when he drove Sebastien into the off-side for a single just prior to lunch.
After the interval, Bonner reached his 50 from 113 balls in streaky fashion, when he edged a delivery from Mervin Mathew between second slip and gully to third man for his seventh boundary. He was, however, fortunate before and after he reached the landmark.
He was on 40 when champion Windwards and West Indies off-spinner Shane Shillingford failed to hold onto a stinging return catch and only succeeded in damaging his bowling hand, which forced him to leave the field for the rest of the day.
Bonner was on 57 when substitute fielder Nelon Pascal badly muffed a regulation chance at deep fine leg from a miscued hook, much to the consternation of left-arm fast-medium bowler Delorn Johnson.
The two carried on merrily for the rest of the afternoon period, except for a brief spell when Johnson bent his back and made life uncomfortable for them with a few well-directed short balls, as Jamaica reached 174 for one at tea.
After the break, Blackwood and Bonner both looked set to cross the century mark but the Windwards created their own success to stop the Jamaicans from running away with the day.
Jamaica played an unchanged 11 while the Windwards brought Shillingford in to replace fast bowler Nelon Pascal.
Jamaica reached the Final following a one-wicket victory in a tense finish against newly-crowned regional champions Barbados at Kensington Oval in Bridgetown in the semi-finals.
The Windwards, meanwhile, crushed Trinidad and Tobago by 234 runs inside three days at Queen's Park Oval in Port of Spain.
The Headley/Weekes Trophy was inaugurated five years ago in honour of the late Jamaica and West Indies batting legend George Headley, and living Barbados and West Indies batting legend Sir Everton Weekes.
Scoreboard
JAMAICA 1st Innings
N. Bonner c Ambris b Mathew                                   88
J.D. Campbell c wkp Charles b Johnson                     2
J. Blackwood lbw b Peters                                         94
A. McCarthy not out                                                  29
*T. Lambert not out                                                  14
Extras (lb2, w1, nb2)                                                    5
TOTAL (3 wkts, 90 overs)                                      232
To bat: +C. Baugh, D. Bernard, N. Miller, D. Jacobs, J. Taylor, S. Cottrell.
Fall of wickets: 1-7, 2-186, 3-194.
Bowling: Johnson 12-1-60-1 (nb1, w1); Matthew 21-7-34-1; Peters 14-3-30-1; Shillingford 9.3-0-25-0; Sebastien 26.3-2-58-0 (nb1); Smith 3-0-10-0; Charles 4-1-13-0
WINDWARD ISLANDS – D.S. Smith, T. Theophile, +J. Charles, S. Ambris, K. Lesporis, R. Currency, *L. Sebastien, M. Matthew, S. Shillingford, K. Peters, D. Johnson
Toss: Windwards
Umpires: G. Brathwaite, J. Wilson.
Around the Web