(The Sports Xchange) – -All-Star guard Stephen Curry scored 17 of his game-high 33 points in the first quarter as the Golden State Warriors added on-court misery to the Los Angeles Clippers' off-the-court issues, thumping them 118-97   to even the Western Conference first-round series at 2-2.
Game Five is scheduled for today in Los Angeles though it is unsure whether Clippers owner Donald Sterling will attend the game.
He was asked not to show up in Oakland on Sunday after racial remarks attributed to him went public and were so powerful that even President Obama felt compelled to respond during a trip to Malaysia.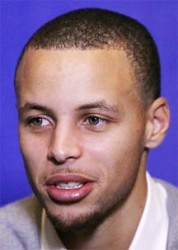 Clippers players made a silent protest during Sunday's pre-game warmups when they circled mid court, threw their jackets on the ground which exposed T-shirts that were turned inside-out to hide any reference to the team.
Golden State built a 15-point lead after the first quarter and never looked back. Andre Iguodala added 22 for the Warriors.
Blake Griffin led the Clippers with 21.
– –
Wizards 98, Bulls 89
Trevor Ariza scored a playoff-high 30 points with six three-pointers and guard Bradley Beal had 18 points as the Washington Wizards defeated the Chicago Bulls to take a 3-1 series lead.
Marcin Gortat added 17 points and guard John Wall had 15 for the Wizards, who scored the game's first 14 points, led 55-40 at halftime and by 23 in the fourth quarter.
Washington played without power forward Nene after the NBA suspended him for one game following a tussle with the Bulls' Jimmy Butler during the fourth quarter of the third game.
The Wizards can clinch the series with a win in Game Five on Tuesday in Chicago.
Taj Gibson set a career-playoff high with 32 points for the Bulls. The reserve forward made his first nine attempts from the field and finished 13-of-16 while his teammates went 22-of-62.
– –
Trail Blazers 123, Rockets 120 (Overtime)
Trail Blazers forward Nicolas Batum scored five consecutive to lead Portland to an overtime victory over the Houston Rockets and a 3-1 advantage in their Western Conference playoff series.
LaMarcus Aldridge scored 29 points and grabbed 10 rebounds for the Trail Blazers, who will look to clinch the series in Game Five on Wednesday at Houston.
Batum collected 25 points, six rebounds and six assists, with his five straight points snapping a 110-110 tie as the Blazers never trailed again.
James Harden scored 28 points and Chandler Parsons added 26 for the Rockets who led by 10 at halftime but saw Portland take control in the second half.
Houston center Dwight Howard tied the game at 106-106 on a dunk with three seconds left in regulation to force OT. Howard finished with 25 and 14 rebounds in the loss.
– –
Raptors 87, Nets 79
Led by guard DeMar DeRozan's game-high 24 points, the Toronto Raptors defeated the Brooklyn Nets to even their Eastern Conference first-round series.
Kyle Lowry had 22 points and Amir Johnson added 17 points for the Raptors, who tied the series at 2-2, with Game Five on Wednesday in Toronto.
Paul Pierce had 22 points and Deron Williams had 10 points and six assists for the Nets, who went scoreless for the final 4:57 of the fourth quarter.
Toronto jumped on top early, leading 35-22 after the first quarter, but Brooklyn climbed back and was up four midway through the fourth before hitting a drought.
Around the Web