World title hopeful, Clive 'The Punisher' Atwell will shift his training camp to the United States of America (USA) from Friday, ahead of his May 24 bout in Mexico.
The move is to maximize the undefeated boxer's chances of defeating the Mexican knockout artist, Jhonny Gonzalez 55(47)-8-0 who he is scheduled to face in Acapulco, Guerrero, Mexico for Gonzalez's WBC featherweight title.
On Easter Monday, Stabroek Sport reported that he would shift his training base from the Andrew 'Sixhead' Lewis Gym to the Gleason's Gym in Brooklyn, New York. It was confirmed yesterday at the Millennium Manor.
"Team Atwell is scheduled to depart the shores of Guyana later in the week to begin the final preparations in Gleason's Gym" 'The Punisher' told the media yesterday.
Once in the US, the fighting pride of Guyana 12(7)-0-1will be working with a coaching staff comprising Lennox Daniels, Leon 'Hurry Up' Moore, Dillon Carew, Dexter Patterson and Lennox Blackmore.
According to Atwell, CEO of Briso Promotions, US based Seon Bristol, "will be overlooking the ship for management while I'm in New York."
Said Bristol "I will assisting Atwell with his meals and accommodation, in fact all the necessities."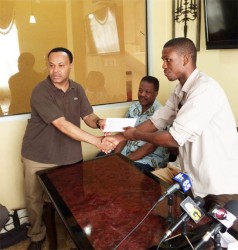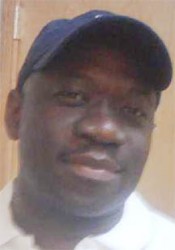 Atwell also used the opportunity to ask Guyana to rally around him while stating that he has blocked out all negative publicity with regards to his relationship with his management, Dog Pound Inc.
"I have a fairly decent business relationship with management, nobody is perfect at the end of the day we must remember that the cause at hand is to win a world title.
They would have done the job in terms of securing a world title fight in an effort to crown a world champion and I believe its fair that we put aside whatever differences and rally around the cause."
Quizzed on Atwell's preparation so far, Daniels intimated that his charge is 75 percent ready. With an abundance of quality sparring partners at the world famous gym, Daniels said Atwell will peak on fight night.
Notes: All of Guyana's past world champions prepared for their title fights on foreign soil. During the press briefing yesterday, CEO of the Millennium Manor, Lance Bacchus made an undisclosed monetary donation to Atwell.(Emmerson Campbell)
Around the Web