After an absence of more than a decade, pugilists from the New Opportunity Corps (NOC) will return to organized fistic competition when the Guyana Boxing Association (GBA) stages its two-day annual Novices championships from tomorrow.
"The NOC will be returning to the bosom of organized and structured boxing" president of the GBA Steve Ninvalle told the media yesterday at the Ministry of Sport.
"We want to welcome them back and we want to use this as an opportunity to let the public know that boxing is a sport that can be used to rehabilitate persons."
At the championships which will box off at 19:00hrs nightly at the East Ruimveldt Community Centre ground, five Simon Pures (Andrew Newton, Nicko Jodha, Calvin Barry, Joel Bess and Samuel Forde) will represent the NOC.
Ninvalle pointed out that several national champions and elite coaches emerged from the NOC.
The GBA head also mentioned that as a means of decentralizing the sport, the Intermediate championships will be held in Essequibo later this year.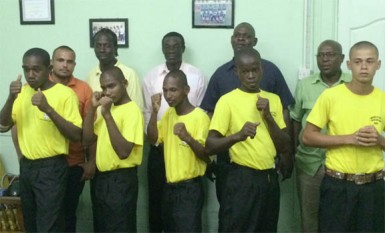 National coach, Wincel Thomas told the media that:"It is good to see the NOC back in the fold."
Thomas highlighted that the boxers are prepared mentally and are eager to step in the ring but noted that there is more work to be done with regards to their technique and ring generalship.
Technical Director of the association, Terrence Poole revealed that he expects in excess of 50 amateur boxers to compete at the championships. Poole also intimated that products from the gyms all across Guyana will be in the ring.
Meanwhile, head of the NOC's delegation, Lawrence Kellman stated:"These youngsters are very enthusiastic about developing themselves and I hope this will be a stepping stone for others back home to follow."
Kellman also thanked the GBA for the opportunity given to his boxers and added that he is looking forward to the continued support from the association.
The weigh in will be held today at the Andrew 'Sixhead' Lewis Gym from 17:00hrs. (Emmerson Campbell)
Around the Web