LOS ANGELES, (Reuters) – The Golden State Warriors were prepared to boycott Tuesday's playoff game against the Los Angeles Clippers had the NBA not sufficiently punished their opponent's team owner Donald Sterling over a racist comments scandal.
The Warriors opted to play, suffering a 113-103 loss to fall 3-2 behind in the best-of-seven series, but the contest was in jeopardy until NBA commissioner Adam Silver acted swiftly to punish the 80-year-old Sterling for remarks that have caused widespread disgust.
"If the league had said 'we're going to give a small fine and wait to see what happens' it would've put more on our hands and the Clippers' hands to do more tonight," Warriors big man David Lee told reporters at Staples Center.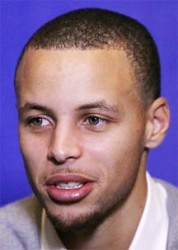 'More' would have included walking off the floor in a show of protest, an act the Warriors proposed earlier in the day.
The Warriors went through their pre-game shootaround with an eye toward Silver's news conference, which began around the time their practice session concluded.
Somewhere in the midst of waiting for Silver to announce his decision, Golden State made one of their own – that if the NBA did not take a strong stance, they would.
"We knew as players we had an opportunity to have a voice," Warriors All-Star Stephen Curry said.
"As the day went on (the plan to boycott) probably would've got more concrete. But the way conversations were going, I'm pretty sure it might have happened had (Silver) not done such a great job speaking for the league and taking a stand."
Around the Web