Glenroy Smith shone the brightest of all the up and coming stars of the fistic sport and lifted the best boxer award of this year's two-night Guyana Boxing Association (GBA) novices championships.
At the open air event which concluded Saturday night at East Ruimveldt Community Centre ground, the Essequibo Boxing Gym product stopped Mervin Rawlins (GDF) in the first round of their 75kg bout to cement his status as the best boxer of the championship.
Smith's TKO victory against Rawlins, came after he won two fights on the opening night of competition on Friday.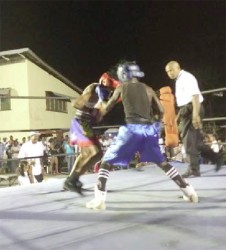 On the distaff side, Taseka Howard of the Forgotten Youth Foundation (FYF) Gym won the female best boxer after defeating Tanesha Dorway (GDF) on points in their match up.
Republican (REP) won the Best Gym award while the Guyana Defence Force placed second.
Quick Results of Saturday Night's Card
Juniors 
 75-80lbs
Theo Bumbury (FYF) vs Calvin Barry (NOC) – Barry won via TKO round one
 85-89lbs
Shaquancy Wright (Esse) won via unanimous decision vs Shemar Bumbury (FYF)
 95-99lbs
Shaquille Simon (PRBG) vs Kevin Allicock (HE)-Allicock won via unanimous decision
110-114 pounds junior winner Christopher Moore
 115-119lbs
Jonathan Hunte (FYF) vs Shane Skeete (HE) won via split decision
 130-134lbs
Samuel Forde (NOC) vs Colin Hinds (PRBG) won via split decision
 140-149lbs
Andrew Newton (NOC) won via unanimous decision vs Joel Bess (NOC)
 150-160lbs
Akeem Mounter (Esse) vs Stephan Smith (FYF) won via unanimous decision
 Youths 
 52kg 
Junior Henry (FYF) vs Tefon Green (HE) won via split decision
 56kg
Javaad Richards (HE) vs Dewani Lampkin (FYF) won via unanimous decision
 Open
49kg 
Andel Douglas (GDF) won by TKO in round one vs Ravindra Bissoondialaw (REP)
 52kg
Dequan Kawall (REP) won via TKO round one vs Richard Gordon (REP)
 56kg 
Delon Naitiram (REP) vs Stephan Andrews (REP)-Andrews won via TKO round two
 60kg
Stephan Julian (REP) vs Junior De Silva (REP)-De Silva won by TKO in round two
 Female 54kg
Tanesha Dorway (GDF) won via TKO in round three vs Taseka Howard (FYF)
 Open
64kg
Kemo Bernard (FYF) vs Klaus Daniels (REP)-Daniels won by TKO in round three
 69kg
Clifton Graham (REP) won by TKO in round one vs Desmond Blair (GDF)
  81kg
Quee Brotherson (GDF) vs Delon Gordon (REP)-Gordon won by TKO in round three
 91kg 
Akeem August (FYF) won via unanimous decision vs Kevin DeFreitas (FYF)
 91+kg
John Campayne (REP) vs Eon Fraser (REP)-Fraser won by TKO in round one. (Emmerson Campbell)
Around the Web