Milerock FC coach Brian Joseph says proper marketing and administration and emoluments for players are crucial to the success of the Guyana Football Federation (GFF) National Premier League.
In a telephone interview with Stabroek Sport, Joseph said the league has not changed much from the matches that had been promoted as the GFF Super League.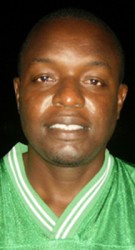 "Obviously it is only a few things that would have changed which was the amount of teams from 12 to 16 and the direct compensation for the teams for the gate receipts…Even that fell away from about the halfway stage of the league because clubs didn't really benefit from the gate receipts because… the attendance to the matches was poor," he said.
The coach also said that both the quality of playing and the marketing of the league fell away significantly half-way through the matches. "The general organization of matches left much to be desired and part of that responsibility falls on the various associations who has the responsibility to promote and organize matches," he said. "Obviously with that not being done, the attendance to matches was low, so teams weren't benefiting financially from the league any more. Teams were playing in empty grounds so the players lost interest and administrators lost interest. Those factors played a big part in what I would call an underperforming league."
Joseph said he always objected to the league featuring 16 teams since if a club lost early on it was tough to maintain momentum among players as the league progressed. "I was in the league from the beginning. I know how difficult it gets for club sides after four or five games if they get on a losing streak to field 11 or 12 players and that was evident," he said.
Further, he noted, clubs faced difficulties holding on to their players for the duration of a league. "At the middle of the league, if the player decided to go and look for a job, things are significantly affected…That is one of the major problems and you have to replace those players with players of significantly less quality and possibly youth players that you are now bringing through," he said. Also, "there needs to be some kind of financial reward because the players have bills to pay. The marketing does not help that because the money received from gates go to meals and out of town team travel as well as towards the expenses of the club."
Matches also need to be given more and better coverage in the press. "I am surprised at the coverage the private tournaments get in the papers. As the matter of fact, people are asking on Wednesdays and Thursdays, how the games went on Sunday because they are seeing nothing in the press."
Around the Web