Guyana retained the Milex Cup, the symbol of long range shooting supremacy in the region when they came out victorious in the Long Range Team match at the West Indies Fullbore shooting Championships being held at the Twickenham Park ranges in Spanish Town, Jamaica Friday.
The greatest challenge to the Guyanese shooters proved to be the windy conditions as the eight-man team shot a grand total of 676 points and 29 V-bulls to blow away  their closest rival Jamaica by 30 points in the shooting match held over 900 and 1000 yards.
The Jamaicans ended on 646 points and 23 Vs, Trinidad and Tobago 610 with 7 Vs, Antigua/Barbuda 607 and 15 Vs and Barbados in the cellar position with 565 with 14 V.
The Guyana marksmen looked well coordinated as they battled intense winds and at one time a threat of rain but stuck to their task and recorded a combined 344 and 16 Vs at 900 yards led by Ransford Goodluck who shot 47 with one V-bull out of a possible 50 points.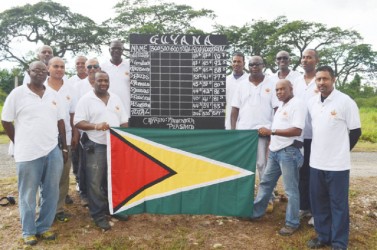 Captain Mahendra Persaud shot 45.4, Ryan Sampson 44.2, Sigmund Douglas 44.0, Lennox Braithwaite shot 43.4, Leo Romalho 43.2, debutant Sherwin Felicien 40.1 and Dylan Fields 38.2.
The 1000 yards range provided a serious challenge to the teams but the Guyanese shooters feared better to record 332 points and 13 Vs, with Jamaica securing 306.9, Antigua/Barbuda 253.5, Trinidad and Tobago 275.1 and Barbados 253.5.
Braithwaite shot 46.3, Goodluck 45.4, Persaud 43.2, Douglas 41.2, Felicien 41.1, Fields 41.0 and Romalho 36.
Team captain Persaud said the victory was fantastic team effort from the shooters, coached and support staff.
"We had to use all of our experience to pull off this victory. We were both mentally and physically prepared for it and we introduced new systems we learnt recently from Great Britain coach Ian Shaw who held a two-week coaching stint in Guyana earlier this year," he added.
He expressed gratitude to the team, coaches and all those who assisted in making the victory possible.
The Guyanese will be looking to reclaim the Anchor Cup they lost to the Jamaicans last year in Barbados in the Short Range Team shoot on Saturday over 300, 500 and 600 yards.
Meanwhile, Guyana named an unchanged team for the Short Range Team match.
The shooters are Persaud (captain), Fields (vice Captain), Braithwaite, Goodluck, Romalho, Sampson, Douglas and Felicien.
The last time the tournament was staged in Jamaica Guyana carted off both titles and will be looking to continue their excellent run in Kingston.
The presentation ceremony will take place Saturday evening and the Guyana contingent due to return home Sunday evening.
Around the Web