—Says he is living testimony of God's might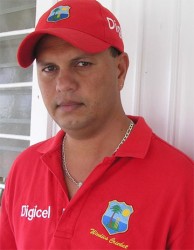 International radio cricket commentator Guyanese Sean Devers is set to make his international return to radio in next month's New Zealand three-Test series against West Indies.
The former Guyana Under-19 off-spinner has recovered after undergoing surgery for a brain tumor in October of 2012. The 44-year-old Devers had been diagnosed with brain cancer and subjected to six weeks of daily radiation therapy after his surgery at the Brian Lara Cancer Treatment Center in Trinidad.
Devers, who made his Test debut as a radio commentator in 2001 when South Africa toured the Caribbean, says he has been cancer free since December 31 last year and claims that God saved his life so that he could be a Testimony to God's might.
"I am happy to be back doing what I love most but at the same time my whole life has changed. I no longer take things for granted and I am learning how to deal with stress. God is a mighty God and if he can do this for me he can do it for anyone. You just have to have faith in him," Devers, who is also scheduled to do commentary in the Test series involving Bangladesh in September, disclosed.
Devers has done commentary during every Test match in Guyana since 2001 in addition to Test matches in Dominica, Jamaica, Trinidad, St Kitts and Barbados before falling ill in December 2011 just after his last Test when Pakistan opposed the home team in a two-Test series in May 2011.
Around the Web