—Flores
Guyana Volleyball Federation (GVF) President Colonel John Flores expects Guyana to excel in this week's Vargas beach volleyball competition in Venezuela following simulations carried out yesterday at the Bayrock Community Center, Linden.
Flores told Stabroek Sport, who was present at the outdoor sand facility in the mining town, that he was pleased with the players form heading into the competition. He pointed out that the players who will be representing Guyana are "seasoned and experienced" in the beach volleyball format.
National players and Port Mourant Training Center (PMTC1) talents; Quacy Matheson and Luen David, are the best qualified players for this tournament given their beach volleyball stints with clubs in Trinidad and Tobago and Suriname, experience which earned their selection to represent Guyana.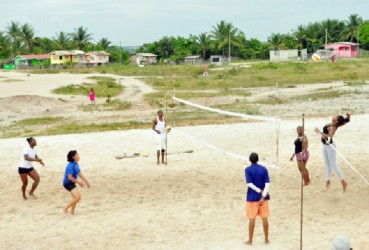 "We want to see how they will place in the tournament. We know that we might be placed against stronger teams but we are ready for the challenge," he added while highlighting his optimism surrounding the duo putting on a good showing, despite him terming this first of many beach tournaments as "an exploratory tour for the Guyanese".
Apart from Matheson and David, the pair of females in Krysta Yhann and Danielle Samaroo will also be seeking to represent their category with success. The practice sessions were conducted under the watchful eyes of Flores and a few coaching members of his faction who wanted to ensure that the players were fully tuned before their departure.
The day's event was greatly hampered by rain which swept across the mining town. However, a few practice sessions were successfully conducted after the rain gave leeway in the latter part of the day.
Played on a two on two format, among both male and female players from the country's top clubs such as Young Achievers and the Guyana Defence Force (GDF) along with Flores himself who briefly participated in a match, used the heavily soaked sand as a mean of further acclimatizing themselves to conditions which are likely possible overseas.
Sessions in defense, passing, spiking, setting and serving were conducted under the fairly overcast atmosphere and tested the volleyballers stamina along with their technique operating in the wet sand and constant drizzles which are climatic changes that are likely in this more difficult format of the game.
After the day's proceedings culminated, Flores thanked the persons who came out to support and train after admitting that some of the players were not able to participate due to their Mother's Day commitments and living distance. The players are expected to wing out tomorrow and are expected back on May 25.
Around the Web