MANHATTAN, CMC- The governing body for soccer in North and Central America and the Caribbean (CONCACAF) is insisting that it should be allowed to host the 2026 World Cup tournament.
CONCACAF lost its place in the queue when the world's governing body FIFA abandoned its rotational policy after selecting Brazil as the 2014 host. FIFA's decision to award the 2018 tournament to Russia  and the 2022 event to Qatar meant that CONCACAF would have to wait at least 32 years between tournaments after the United States hosted the 1994 World Cup.
"From a CONCACAF perspective, our focus for the World Cup is 2026. We're committed to that," CONCACAF president Jeffrey Webb told a news conference in Manhattan on Tuesday.
"CONCACAF was obviously hard done (by) when (the) rotation stopped; we were the ones who lost out because it should have been our turn after Brazil. When the rotation stopped, obviously it impacted us the most."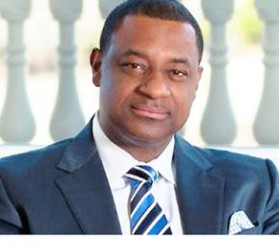 The U.S., Canada and Mexico have all expressed interest in hosting the 2026 World Cup.
However  Webb is encouraging the region to throw its weight behind one bid, although he did not rule out the possibility of a co-hosting arrangement.
"Obviously we believe our best chances is to put one member forward, one country forward, one bid forward, that gives us our best opportunity," he said.
"CONCACAF has 35 votes and of course if you split those votes amongst ourselves you're defeating the purpose."
The only co-hosted World Cup finals so far were organized by Japan and South Korea in 2002.
FIFA has since said that any future joint bids would have to be organized under a single committee.
Officials believe the U.S. could join forces with either Mexico or Canada for 2026 if the countries could reach an agreement.
"I think it is very much possible," said Webb.
"FIFA did it in the past in 2002 with Japan and Korea and the experience from that was not too well.
"Obviously there are various costs and so forth increased by having two different local organizing committees in two different countries so from that standpoint I thought it (2002) was a logistical nightmare from my memory, but definitely it's a possibility."
Around the Web