CAVE HILL, Barbados, CMC – High Performance Centre head coach, Graeme West believes the presence of legendary West Indies captain Sir Vivian Richards in the training camp for the upcoming Bangladesh A series can help create a culture of winning in the young group.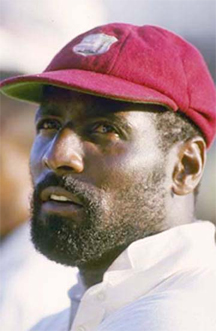 Sir Vivian, who never lost a Test series as captain, has joined the HPC squad as a technical advisor for the tour which runs from May 26 to June 15, and which comprises two four-day, three 50 overs-a-side and two Twenty20 matches.
"When you look at the experiences that he had and the teams in which he played, he helped to create a culture of winning – and this is one of things we want him to emphasise during our sessions with the players – how to create and maintain a winning habit," West said.
"We need winners and we need winning teams and we need champion players, and they do not come any bigger than Sir Viv."
Sir Viv has already made his presence felt in the camp which opened on Tuesday at the 3Ws Oval, UWI Cave Hill. He has spent time with both batsmen and bowlers imparting knowledge, and has taken an active role in training sessions.
West said in addition to passing on technical advice, Sir Viv would also be critical in instilling confidence in players.
"In the few sessions he has had so far, you can still see that hunger, that passion, that desire for West Indies to be successful still burns within him," said West.
"He can also add value with the batsmen in terms of little technical and tactical approaches that can help them, but he is also very keen on helping them to build confidence and self-belief. It's a great opportunity for all of us and it raises the bar in terms of what we are able to offer."
Sir Viv was the most devastating batsmen of his era, compiling 8540 runs from 121 Tests, at an average of 50.23. He led West Indies in 50 Tests, winning 27, losing just eight and drawing 15.
More recently, Sir Viv served in an advisory capacity to Twenty20 teams in the Australia Big Bash and the Indian Premier League.
"To work alongside someone like Sir Viv is a privilege and his presence offers a number of things to the players as we prepare for the upcoming matches," West pointed out.
"First, the players can see the importance of this camp when someone of the calibre of Sir Viv is standing there and observing them, talking to them, offering some mentoring to them. The value that brings to the programme, you cannot put a price on it.
Around the Web