After two days and 171.5 miles of intense racing on the roadways, Darren Matthews emerged winner of the 32nd annual NSC Independence Three-Stage Road Race yesterday.
As the sprinters approached the finish line on a sunny morning under the banner of several overhanging trees on Homestretch Avenue, it was Team Alanis' Paul DeNobrega who had just enough left in the tank to edge out Matthews for the final stage win.
However, Matthews first stage victory and the second place finishes in the final two stages ensured he preserved the two-second lead he had over Geron Williams heading into yesterday's final stage which started in the hills of Linden.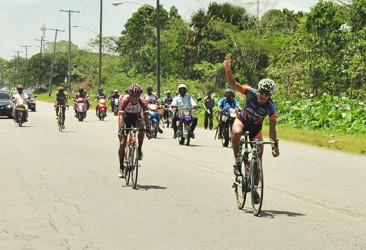 With the win, the 23-year old Barbadian rode off with the coveted Independence Three-Stage champion's trophy and cash prize.
"I am happy for the win," Matthews said in a post-race interview. "I wished more of my Coco teammates could have been in the top five but things did not go as we planned."
Quizzed about returning for the five-stage event in October, Matthews mentioned that he would relish the opportunity but it depends on his hectic racing schedule.
Williams, who placed fifth in the final leg after finishing second and third in the prior stages was second overall. Geron was also second overall last year.
Marlon Williams who was third heading into the final stage maintained his position.
 Quick results 
First stage-Corriverton to New Amsterdam (46 miles)
1st) Darren Matthews 1h: 44m: 16s
2nd) Geron Williams 1:44:16
3rd) Delroy Hinds   1:44:18
4th) Paul DeNobrega 1:44:20
5th) Marlon Williams 1:44:23
6th) Alanzo Greaves 1:44:23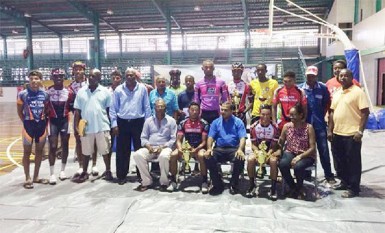 Second stage-Rosignol to Carifesta Avenue (60 miles)
1st) Williams 2h: 22m: 52s
2nd) Darren Matthews 2:22:55
3rd) Geron Williams 2:22:57
4th) Mauricio Rabayo 2:22:59
Third stage-Linden to Homestretch Avenue (65 miles)
1st) Paul DeNobrega 2:46:14
2nd) Darren Matthews
4th) Raynauth Jeffrey
5th) Geron Williams
6th) Robin Persaud
Overall placings
1st) Darren Matthews 6h: 53m: 18s (Team Coco's)
2nd) Geron Williams 6:54:23 (Continental)
3rd) Marlon Williams 6:54:30 (Heat Wave)
4th) Alanzo Greaves 6:54:59 (Roraima Bikers)
5th) Orville Hinds 6:55:22 (Team United)
6th) Mauricio Rabayo 6:56:05 (Team Coco's)
Akeem Anthony (6:56:28) was the first junior while was the first veteran was Robin Persaud (6:56:20).
A record 85 riders started the event. The 96 registrants were also a new record. (Emmerson Campbell)
Around the Web