The Guyana Tractor and Equipment Inc. (GUYTRAC) has once again thrown its support behind Upper Corentyne Cricket Association (UCCA) which will be staging a T20 knock out competition for the Upper Corentyne area.
The competition is expected to feature over 20 teams from No. 43 Village to Crabwood Creek.
At their last board meeting the UCCA decided to only allow teams who are financially affiliated to the UCCA to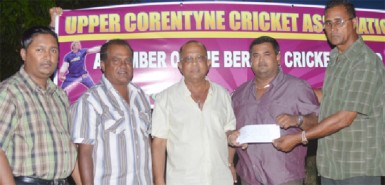 participate in this competition which is expected to start on June 1.
The UCCA, in an effort to assist its financial members will set matches at various venues where four teams will play on the same day allowing the host teams to use the opportunity to raise funds for the club. The final and third place playoff is expected to be played at Crabwood Sports complex.
At a simple presentation done at Crabwood Creek recently Shamnarine Narine proprietor of GUYTRAC expressed gratitude towards his company's venture with the UCCA with regards to sponsoring the competition, pointing out that it is the same community which supports their various businesses over the years.
Dennis De Andrade president of the UCCA thanked the GUYTRAC family for this much needed sponsorship and praised Narine and H.N.Sugrim for giving back so much to charitable events such as this one. The UCCA president also take the opportunity to urges clubs to register with the UCCA no later than May 26, 2014 to be eligible to play in this competition.
Around the Web