Most of the works on the track at the Synthetic Facility at Leonora, WCD, have been completed and by the second week in June, the lanes will be drawn.
This is according to Deputy Permanent Secretary of the Ministry of Sport, Steve Ninvalle who along with some sections of the media visited the facility yesterday.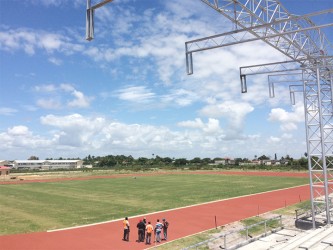 "We have been told that a second engineer from BSW Regupol will be in Guyana to draw the lanes and to put the other apparatus on the hammer section, shot put and so forth," he told media operatives yesterday.
The Deputy Permanent Secretary also spoke on ongoing works on other areas of the Region Three venue.
"Additionally work is ongoing at the northeastern stand and on the other stand and those are scheduled to be completed at the end of May however if you look at the stands now it would be hard for the contractor to commit to the end of May.
"If not the end of May by mid-June we should have the stands up and ready."
He added "This stand also include the washroom facilities and the contractor for those facilities is waiting until BK (International) completes the stands to start their works."
Field Works
"I think you notice the field also, the contractor for the field has given us until June 1 for it to be completed, after that we will go into six months of maintenance.
"I think there is a lot of improvements as it relates to the field over the last three months or so."
Ninvalle concluded by stating that "We are happy that we have gotten this far, there have been some hiccups that we can't hide as it relates to the contractors but at least we have reached to this stage and we want to make sure that whatever product we give to the people of Guyana who this facility belongs to, is something that is upright and sound."
Works on the facility commenced in 2011 with an initial estimated completion time of two years.
Around the Web