Western Union on Friday threw its support behind the Media XI ahead of their highly anticipated showdown with the Georgetown Cricket Scorers and Umpires Association (GCS&UA), by providing a number of caps which will be used by the Media team in Monday's match at the legendary Georgetown Cricket Club (GCC) ground, Bourda.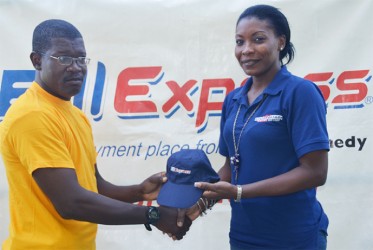 Marketing Representative of Western Union, Natheeah Mendonca, at a simple handing over ceremony at the GCC ground yesterday, handed over the caps to the Media X1 captain Calvin Roberts, who thanked Western Union for the patronage.
A confident Media unit will confront the scorers and umpires in a feature 20/20 game, set to get under way at 10:00h. Admission to the venue is free and members of the public are invited to witness the game.
The Media fraternity wishes to thank Lifetime Realty, Trophy Stall, P&P Insurance Brokers, Christopher Matthias and the management of Georgetown Cricket Club for their tangible support in making the match a reality.
The Media squad reads: Calvin Roberts, John Ramsingh, Sean Devers, Daniel Singh, Ravi Persaud, Avenash Ramzan, Rajiv Bisnauth, Esan Griffith, Duncan Saul, Clifton Ross, Ishaka Jackman, Kizan Brummell, Reuben Stoby and Keon Blade.
The GCS&UA reads: Delvin Austin, Clyde Butts, Ryan Banwarie, Shannon Crawford, Nigel Duguid, Zaheer Mohamed, Javed Persaud, Daniel Richmond, Trevor Ritney, Arleigh Rutherford, Colin Stuart, Mikoowanyah Yosef-Yisrael, Hortence Isaacs and Edward Bowen.
Around the Web