Sentinel Security has joined the long list of sponsors who have thrown their weight behind the Berbice Cricket Board (BCB)/BCC&DA Guyana Independence T20 Cup 2014 set for today at the Albion Sports Complex.
At a simple ceremony held early in the week, Priya Rampersaud representing Noreen Gaskin of Sentinel Security Inc., presented a sponsorship cheque to Cosmatia Lindie. Rampersaud said that her company was pleased to support the event, adding that they have been impressed by what they have seen over the years. She said the company will always support sports particularly cricket, and wished the youngsters well.
In response, Lindie thanked the company for its support and promised that patrons will be pleased with the tournament.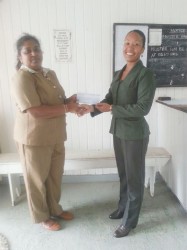 The event will feature four teams, with Berbice 'A' taking on Berbice 'B' from 11am. At 2pm the Georgetown Cricket Association (GCA) will play BK East Coast Jaguars with the winners battling in the final from 7pm under lights for bragging rights, trophies and cash incentives. Prior to the final, there will be a feature softball match between Oldenhoff Carriers and D'Edward of West Berbice. All proceeds from this event will go to several charities, schools and cricket clubs. This event promises to be the biggest ever played under international quality floodlights similar to those installed at the Providence Stadium. It will form part of the region's Independence anniversary celebration which is expected to draw fans from across the county and neighbouring Suriname.
Other sponsors are Courts Guyana Inc, Demerara Bank Limited, Republic Bank Limited, Greenidge Refrigeration, Guyana Telephone and Telegraph, Hand-in-Hand Insurance Company, Raffik and Sons Construction, Bissoondyal Singh of Elizabeth Style, ENetworks, Sunshine Supermarket, Danzies Clothing and Auto Sale, Geddes Grant, Nand Persaud of Karibee Rice, Trophy Stall, Advance Agri, A Ally and Sons, Ashiek and Son Spare Parts and Auto Sale, Demerara Distilleries Limited, Banks DIH, Ansa McAl, Ishmael Poultry, Geddes Grant, Ainlim, New Building Society Ltd, Ramesh Maraj, NPG, Furniture World, Poonai Pharmacy, Zai Auto Paint, Balram Shane and Jayzee of the USA.
Around the Web