There was no upsetting Score's Even this time.
Guyana's premier thoroughbred galloped to a gate to pole victory yesterday in the feature A and Lower event of the PPP Independence Cup, beating Treacle by about eight lengths.
Treacle had shockingly upset Score's Even at Kennard's Memorial Turf Club four months ago, but the grey gelding with Ajai in the stirrups gained its revenge quite convincingly at the Rising Sun Turf Club.
With hundreds of turfites buzzing with excitement in anticipation of another potential upset,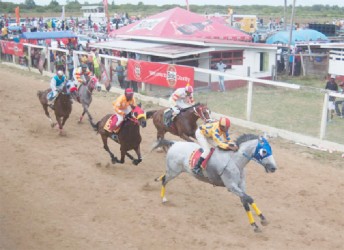 the pre-race hype trampled the competition Score's Even got throughout the seven furlong event.
This one was over early, in a scorching 1m: 34:89s to be exact.
Sent off as the betting favourite, Score's Even starting from the far post faced little pressure.
Despite fetching an eye popping 130lbs, the Dennis DeRoop owned steed increased its lead with every powerful stride and drew off in the homestretch to seal the comprehensive win which was worth an appetizing $1M.
The Dark Bay Mare, Treacle which fetched the 108-lb jockey, Richmond, trotted off with half that amount. California Strike and Jack in My Style placed third and fourth in the five-horse field. Got To Go was fifth.
Meet Summary
Race 1 (J1 and Lower)
1st) De Gump ($180,000)
2nd) Royal Cash
3rd) Famous Pride
4th) Little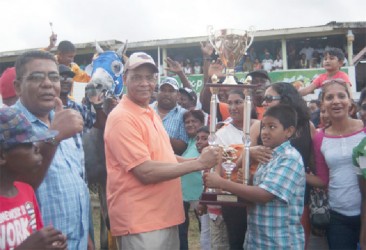 Race 2 (D3 and Lower)
1st) Swing Easy ($500,000)
2nd) Run Na Na Run
3rd) Force Entry
4th) It's My Turn
Race 3 (G3 and Lower)
1st) Demascus Dream ($300,000)
2nd) Ameera's Joy
3rd) Red Cloud
4th) Release The Beast
Race 4 (Three-Year Old Open Guyana and WI bred)
1st) Settling Jet ($400,000)
2nd) Unsettled
3rd) Shooting Star
4th) Today is My Day
Race 5 (I and Lower)
1st) Easy To Win ($200,000)
2nd) I Want Revenge
3rd) Famous Pride
4th) Savion
Race 7 (F1 and Lower)
1st)Swing Easy ($400,000)
2nd) Princess Alisha
3rd) Silent Night
4th)Captain Crook
Notes: Minister of Home Affairs and General Secretary of the PPP/C, Clement Rohee presented winning trophies to some of the stable owners and also made brief congratulatory remarks.
In excess of $4M was up for grabs.
Around the Web