LUCAS STREET, Barbados, CMC – Captain Kraigg Brathwaite was closing in on his sixth first class hundred while seamer Carlos Brathwaite nudged the senior selectors with another incisive display, as West Indies High Performance Centre took command of their four-day "Test" against Bangladesh A here yesterday.
At the close on day two at the Windward Cricket Club, WI HPC were 170 for two in their second innings, an overall lead of 322.
The 21-year-old Kraigg Brathwaite was unbeaten on 96 and was partnered by Leon Johnson who was unbeaten on 40. The pair have so far added 90 for the third wicket.
Brathwaite has scored unusually quickly, facing 125 deliveries and counted ten fours and a six – a big stroke over long-on off left-arm spinner Taijul Islam that raised his half-century.
Earlier, Bangladesh A were undermined by terrific spell from Carlos Brathwaite who finished with four for 45, to send the visitors tumbling for 140 all out.
Resuming at five without loss, the Bangladeshis were having things their own way in a 66-run opening stand between Imrul Kayes (32) and Shamsur Rahman (28).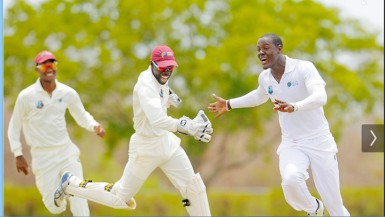 Brathwaite's introduction, however, changed the course of the innings dramatically. He sent back Imrul after the left-hander had faced 51 balls and struck five fours and a six, and should have had Marshall Ayub four overs later but Ashley Nurse floored a difficult catch at slip with the score on 72 for one.With five runs added to the total, lively part-time seamer Jonathan Carter trapped Ayub lbw for eight, and Brathwaite then found himself on a hat-trick when he struck twice just before lunch.
He had Shamsur caught at the wicket by Chadwick Walton and off the next delivery, removed Naeem Islam to a fine catch at slip by Nurse.
Struggling at 78 for four at the interval, Bangladesh found no reprieve afterward as WI HPC pressed home their advantage. Left-arm seamer Sheldon Cottrell claimed Mominul Haque, lbw for ten, and captain Nasir Hossain who has already played 14 Tests, then gave Brathwaite his fourth wicket with another catch behind to Walton.
Bangladesh A then needed a cameo, run-a-ball 31 from Muktar Ali, with five fours and a six, to get up to their eventual total.
Fast bowler Miguel Cummins took the last three wickets to finish with three for 25 while Cottrell picked up two for 29.
Kraigg Brathwaite and Assad Fudadin (22) then put on 79 for the first wicket before WI HPC lost two quick wickets with just one run added to slip to 80 for two.
Johnson, who has hit three fours and a six off 76 balls, joined Brathwaite in a positive stand to ram home the HPC's advantage.
Scoreboard
WI HPC 1st Innings 292
BANGLADESH A
(overnight five without loss)
Imrul Kayes c Blackwood b C Brathwaite                                    32
Shamsur Rahman c wkp Walton b C Brathwaite                                   28
Marshall Ayub lbw b Carter             8
Mominul Haque lbw b Cottrell     10
Naeem Islam c Nurse b C Brathwaite
0
*Nasir Hossain c wkp Walton b C Brathwaite                                   0
+Nurul Hasan c wkp Walton b Cottrell                                         2
Muktar Ali c wkp Walton b Cummins
31
Taijul Islam b Cummins               14
Robiul Islam not out                     4
Shubhashis Roy b Cummins         0
Extras (b4, lb1, w1 nb5)               11
TOTAL (all out, 41.4 overs)       140
Fall of wickets: 1-66, 2-77, 3-77, 4-77, 5-87, 6-89, 7-93, 8-126, 9-140, 10-140.
Bowling: Cottrell 10-4-29-2, Cummins 8.4-1-25-3, C Brathwaite 14-3-45-4, Carter 9-2-36-1.
WI HPC 2nd Innings
*K Brathwaite not out                 96
A Fudadin c R Islam b N Hossain 22
J Blackwood lbw b T Islam           0
L Johnson not out                             40
Extras (b4, lb4, w4)                           12
TOTAL (2 wkts, 45 overs)           170
Fall of wickets: 1-79, 2-80.
Bowling: Robiul Islam 7-1-24-0, Shubhashis Roy 3-0-9-0, Muktar Ali 8-0-28-0, Taijul Islam 12-1-47-1, Nasir Hossain 6-0-23-1, Mominul Haque 4-0-19-0, Shamsur Rahman 4-0-9-0, Naeem Islam 1-0-3-0.
Position: WI HPC lead by 322 runs overall.
Toss: Bangladesh A.
Umpires: J Wilson, G Brathwaite.
Around the Web