LUCAS STREET, Barbados, CMC – Captain Kraigg Brathwaite's sixth first class hundred and fast bowler Miguel Cummins's four-wicket haul, helped West Indies High Performance Centre crush Bangladesh A by 351 runs inside three days, in their opening four-day "Test" here Wednesday.
The right-handed Brathwaite made 164 to propel his side to 351 for eight declared, after they resumed the day on 170 for two. Leon Johnson added just two to his overnight 40 while Jonathan Carter chipped in with 49 and Carlos Brathwaite, 37.
Set a mammoth 504 for victory, Bangladesh A were undermined by Cummins who grabbed four for 45, as they crumbled for a disappointing 152 all out. Leg-spinner Devendra Bishoo claimed three for 58 while left-arm pacer Sheldon Cottrell took two for 25. Opener Shamsur Rahman top scored 33 while wicketkeeper Nurul Hasan chipped in with 23 but the visitors were unable to deal with the firepower from the HPC.
Following the HPC's declaration, the tone for the innings was set in the 11 overs available before tea where Cummins produced a hostile spell to reduce Bangladesh to 58 for two.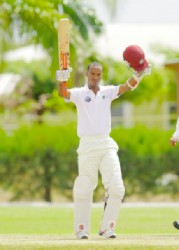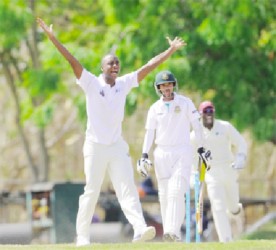 Cummins shook up Imrul Kayes before removing him for five with the score on 11 and he also accounted for Marshall Ayub to a catch at the wicket for 18, at 33 for two.
Shamsur and Mominul Haque (22) carried Bangladesh A to the safety of tea and continued their resistance afterward, as they posted 39 for the third wicket.
However, Shamsur's dismissal triggered a collapse that saw three wickets fall for 16 runs, and which left the tourists struggling again on 88 for five. Mominul carried on the fight for just over 1-1/2 hours before finally succumbing, lbw to Bishoo with the score on 105.
Nurul and Muktar Ali, who hit 20 from 30 balls with three fours and a six, staged one last stand of 31 for the seventh wicket before Bishoo ended that resistance by knocking over Muktar.
Earlier, Kraigg Brathwaite converted his overnight 96 into a hundred as he fell just short of his equaling his career-best 165. He faced 237 deliveries, in three hours and 41 minutes at the crease, striking 15 fours and a six.
He lost Johnson early in the morning just three short of their century stand, but found allies in Carter and namesake Carlos Brathwaite, to add crucial runs.
With Carter he put on 69 for the fourth wicket, the left-hander gathering seven fours and a six in a busy 50-knock. The two Brathwaites then added 72 for the seventh wicket, with Carlos facing 40 balls and striking five fours.
Brathwaite's dismissal triggered the HPC's declaration, allowing them to set about the Bangladesh A innings with relish.
LUCAS STREET, Barbados, CMC – Scoreboard on the third day of the four-day "Test" between West Indies High Performance Centre and Bangladesh A at the Windward Cricket Club here Wednesday.
Scoreboard
WI HPC 1st Innings 292
BANGLADESH A 1st Innings 140
WI HPC 2nd Innings
(overnight 170 for two)
*K Brathwaite lbw b R Islam                                           164
A Fudadin c R Islam b N Hossain                                    22
J Blackwood lbw b T Islam                                                   0
L Johnson c wkp N Hasan b R Islam                                42
J Carter lbw b T Islam                                                           49
+C Walton c I Kayes b T Islam                                           17
A Nurse c wkp N Hasan b M Haque                                 0
C Brathwaite b M Ali                                                            37
D Bishoo not out                                                                     2
Extras (b4, lb7, w5, nb2)                                                 18
TOTAL (8 wkts, 85.1 overs)                                              351
Fall of wickets: 1-79, 2-80, 3-177, 4-246, 5-272, 6-277, 7-349, 8-351.
Bowling: Robiul Islam 13.1-1-64-2, Shubhashis Roy 5-0-34-0, Muktar Ali 17-0-62-1, Taijul Islam 26-2-95-3, Nasir Hossain 7-0-29-1, Mominul Haque 12-0-44-1, Samsur Rahman 4-0-9-0, Naeem Islam 1-0-3-0.
BANGLADESH 1 2nd Innings (target: 504 runs)
Imrul Kayes c K Brathwaite b Cummins                          5
Samsur Rahman c Johnson b Cottrell                             33
Marshall Ayub c wkp Walton b Cummins                         18
Mominul Haque lbw b Bishoo                                          22
Naeem Islam c Nurse b Cottrell                                           0
*Nasir Hossain b C Brathwaite                                             3
+Nurul Hasan b Cummins                                               23
Muktar Ali c Cummins b Bishoo                                       20
Taijul Islam b Cummins                                                      4
Robiul Islam st Walton b Bishoo                                       1
Shubhashis Roy not out                                                       2
Extras (b10, w2, nb9)                                                         21
TOTAL (all out, 38.2 overs)                                             152
Fall of wickets: 1-11, 2-33, 3-72, 4-74, 5-88, 6-105, 7-136, 8-141, 9-149, 10-152.
Bowling: Cottrell 6-0-25-2, Cummins 12-3-40-4, Carlos Brathwaite 6-1-19-1, Bishoo 14.2-3-58-3.
Result: WI HPC won by 351 runs.
Man-of-the-Match: Jermaine Blackwood.
Umpires: J Wilson, G Brathwaite.
Around the Web